We all saw how hot Victoria Beckham's SS14 collection was at New York Fashion Week with cool culottes and loose-fitting peplums ruling her runway show.
But we never took the time to look a little south of her easy shapes and elegant whites to notice THE shoe of the season.
Replacing her glamorous heeled sandals and pretty peep toes, the man-repelling mules were specially made for her SS14 show by Manolo Blahnik.
They're one part clumpy clog, one part haute couture hoof - this is the micro trend you'll need to get to grips with if you're to get style savvy in time for next summer.
The shoe department has had a made-to-be ugly makeover of late with flatforms, jelly shoes and Birkenstocks all making ugly shoes a style must-try.
Is this going to be the year that pretty girl chic gets a rebellious makeover and our boyfriends are left wincing in a dark corner as we try on the latest haul of on-trend shoes?
Victoria Beckham made a flash appearance after her show to rapturous applause but there wasn't an ugly sister Cinderella shoe in sight. Instead she opted for a pair of classic heeled points.
If/when she starts walking in the micro mules then we'll be walking with her. Until then we'll stick to our pretty ballerinas and fail-safe ankle boots.
Check out the ugly shoe styles we love: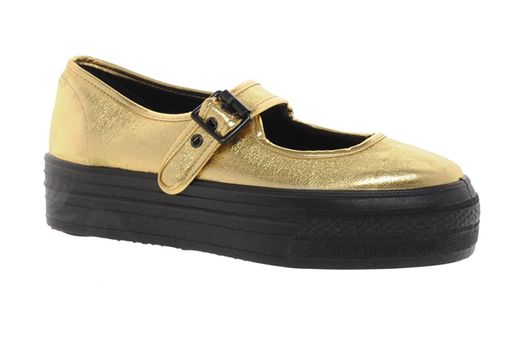 © Asos
Victoria Beckham makes mules hot again
Will you be embracing the mule? Tweet us @sofeminineuk