With claims such as burning more calories than an hour of Zumba or two hours of yoga in under 4 minutes, really you'd be crazy not to be intrigued by Tabata…and you're not the only ones.

If you checked your Instagram this morning you may well have seen Kelly Brook getting hot and bothered with a battle rope during her Tabata workout (it's not quite as weird as it sounds, trust us!).
​Elle Macphersons's a self confessed Tabata addict too and even hottie Henry Cavill is a convert. So with a glittering group of celebrity fans, what is Tabata and how on earth can it make you burn that many calories, that fast? We found out...
What is Tabata?
In simple terms, Tabata is high intensity training taken to another level. Including everything from your classic resistance training to plyometics, a Tabata class is probably one of the most versatile exercise concepts out there but essentially it always follows the same principle.
A spokesperson from official Tabata told us: "The TABATA concept consists of high workloads performed in extremely short durations, followed by short recoveries. Consisting of 20 seconds intense exercise followed by 10 seconds of rest, repeated eight times. This amounts to just 4 minutes in total."
And for all you sceptics out there, Tabata's claims have some science to back them up. Originally developed by Professor Izumi, Tabata was created in 1996 as an exercise program for the Japanese speed skating team.
During his research he tested two groups of athletes on their daily exercise programs. One group did only 4 minutes of going all-out on an exercise bike, the second pedalled at normal speed for an hour. The result – the 4 minute group saw a vast improvement on their fitness ahead of the 60 minute group. Thus, 4 minutes of extreme exercise is all you need.
But don't get too excited, those 4 minutes are intense and as with most things in life, you get what you give. So if you're not up for pushing yourself to the brink during those 4 minutes, it won't work. Thankfully though, pushing yourself to the absolute limit will all be worth it …
"All exercise will raise your resting metabolic rate (RMR), but the intense 'supra-maximal' high intensity training in Tabata will continue the calorie-burning effect for a full 12 hours after you've left the exercise class," says the official Tabata spokesperson.
So although you work hard, the workout is only 20 seconds long - that's nothing, kinda.

You'll also be doing a range of exercises in Tabata from mixed martial arts moves, work with kettlebells, ropes, push-ups, line jumps, squats and mountain climbs so in theory you'll never get bored.
So if you're looking for that super-fast fitness burst, Tabata could be the answer!
The official tabata™ classes are available at Fitness First, Active4Less and Everyone Active. For more information head to www.tabataofficial.com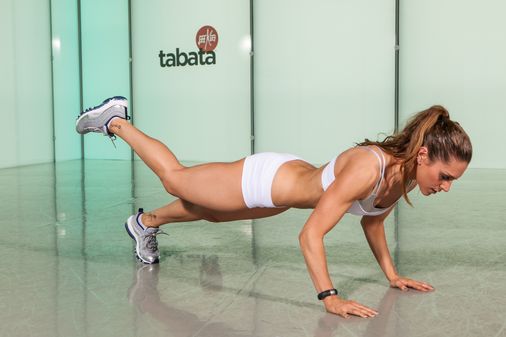 © The official tabata™
Tried Tabata? Tell us your experiences by tweeting us at @sofeminineuk.