For many young women, before Caitlin Moran, Hilary Mantel, Naomi Woolf and Maya Angelou showed up on their bookcases, there was Disney Channel and Nickelodeon. It's amazing that the cartoons we waited all week to watch were dripping with feminist Girl Power and influenced an entire generation of empowered women.
These characters all came from different backgrounds but the connecting thread is that they were intelligent, self-motivated chicks with a strong sense of justice and female equality - definitely feminists in the making.
Lets give you a reminder...
Ashley Spinelli
Couldn't you see a grown-up Spinelli sitting down and shootin' the sh*t with Caitlin Moran? The rugged tomboy had no patience for the phrase "boys do it better," and routinely schooled her male classmates in athleticism and amazing comebacks.
Viewers loved that Spinelli went by her last name to separate herself from the mean girls of the school, The Ashleys. Yes, she was a tough talker, but she used her loud mouth to stand up for herself, her friends, or a classmate who was being picked on. Rumour was that Spinelli had a thing for her friend and the show's straight man, TJ, but she never descended into a boy crazed archetype.
​She taught young girls that being yourself takes less effort and is lot more fun than trying to change yourself to please someone else!
Eliza Thornberry
OK, not only could Eliza freakin' Thornberry talk to animals but she was also a total Third Wave feminist, right? Her BFF was a super smart chimpanzee named Darwin and she travelled the world because her parents were nature show hosts. She was smart, fearless, curious, and once WALKED INTO A LION'S DEN.
​Let's be real - the 12 year old was obviously headed for academic glory. More importantly, like her mum, she never let that pesky gender stereotype that claimed girls shouldn't play in mud get in the way of her curiosities.
Penny Proud
Penny Proud was like wish fulfillment for young girls of color who rarely see themselves on TV and are vulnerable to racism, discrimination, and lack of self-esteem. Then to strengthen an already incredible character, the young Penny showed signs of an emerging feminist throughout the show's run.
​She went to school as Angela Davis for a history project, tried out for football to prove that girls should be able to play on the team, and was raised by a mom who was the primary money-maker in the house.
​There's no doubt that if Penny were real, she would be a force to be reckoned with, that's for sure!
Pepper Ann
The show decided to ignore all gender norms when it came to Pepper Ann. She was a little unkempt, spent her dough on comic books, loved soccer and rollerblading, and ultimately cared more about her friendships than being the most popular chick in school.

Pepper Ann also epitomised one of the basic tenets of feminism - accepting people for who they are instead of questioning why they don't fit into gender ideals.

She was raised by a single mother who happened to be a feminist, so it was no surprise that Pepper Ann was respectful and progressive in her relationships. For example, Pepper Ann had a younger sister, Moose, who had "boyish" qualities - deep voice, raggedy clothes, long skater-boy haircut. Yet, Pepper Ann never addressed her sister's lack of femininity. Actually no-one on the show did. The creators demonstrated that confident women come in all shapes, sizes, and colours!
Daria Morgendorfer and Jane Lane
The enlightening, angst-filled conversations between best friends Daria and Jane are examples of two young teens scratching the surface of what feminism is all about.
​They both bucked the female stereotypes that Daria's sister, Quinn, and her friends represented, had no patience for entitled boys at their high school and were rightly suspicious of the sexist, insecurity-inducing images thrown at young girls and the pressures they were under to fit in.

Daria and Jane compelled girls to really critique their surroundings and influences and then have the confidence to say: "I don't want to be that. I'd rather by myself."
Kim Possible
The show Kim Possible scoffed at the "damsel in distress" trope used in action films. In fact, the high school crime stopper was often seen saving her best friend, Ron Stoppable, by using her ingenuity and strength.

While Kim was a cheerleader at her school, she also loved things that many people would consider boyish, such as action films, video games, and superheroes. She was a badass in martial arts, negotiation, and cutting edge technology. Her greatest accomplishment? Instilling a sense of empowerment and self-will in young girls by assuring them that they have the tools to save themselves, not men.
Reggie Rocket
Reggie Rocket seen on Rocket Power was like a gift from the feminist gods. The California girl was not only a beast at skateboarding, snowboarding, surfing, and roller-skating, she also ran a local zine with her Rocket Power team and other talented girl friends. Despite her obvious athleticism, Reggie often had to showcase her talents to everyone's amazement, quieting a lot of the (male) naysayers.
The world of extreme sports isn't always welcoming to young women, so Reggie's character encouraged girls to try things that were considered Boys Only.
Ginger Foutley
Ginger Foutley of As Told by Ginger adored her girl friends and never allowed the pressures of high school threaten her relationships. When the media is constantly putting women in competition with each other, particularly for other males, the show's explicit celebration of female friendships is incredibly valuable and appreciated.

​Ginger also didn't hide her intelligence. Similar to Eliza Thornberry, Ginger was a "science geek" and a proud one. Believe it or not, there is still a bias against girls who are interested in the hard sciences so it was great to see Ginger excel in a subject that many people believe women can't be successful in.
​Ginger was feisty, ridiculously smart, and fought for the little guy - definitely a feminist like her mum!
Lisa Simpson
Can we all just have a Lisa Simpson as a personal life coach? The musically-gifted middle child matures over the course of the show and her personality, beliefs, and principles ultimately water her feminism.
​She was brainy, concerned about world issues (Free Tibet!), loved books and was usually the voice of reason in her off-beat family. Although she was a bit of a straight (wo)man for the show, Lisa never compromised herself, something young girls struggle with in their adolescent years.
Lisa's best quality was her ability to think outside of herself and ​get seriously pissed off and loud about the injustices she observed. You gotta love Lisa aka the pint-sized activist, and creator of feminist barbie, Lisa Lionheart.
​Every woman who identifies as a feminist should watch all the Lisa-centric episodes of The Simpsons. They're amazing!
Turanga Leela
Futurama fans, we didn't forget you! The one-eyed, muscular, ass-kicking Leela caps off our list because...duh. She's arguably one of the best portrayals of feminism seen in mainstream TV. She's the smart, logical, and proactive leader of Planet Express Ship.
As the brains behind the delivery starship operation, she's often the rescuer rather than the damsel, and routinely deals with men who find it difficult to take orders from a woman. She's constantly proving over and over how capables he is and that she's not only just as good but BETTER than the boys.
What cartoon characters influenced YOUR feminism? Tweet us @sofeminineUK!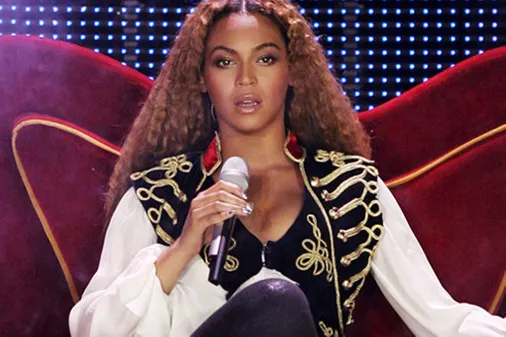 © Getty
Inspirational Feminist Quotes: Empowering Quotes For Women
See album
You Might Also Like:
Girls in engineering: New badass advert by GoldieBlox encourages girls to get engineering
Honour Based Violence: Why You Need To Remember #BritainsLostWomen
The Emily Letts Effect: Why We Need More Positive Abortion Stories