Rihanna has gained herself an unlikely fan in self-confessed quiet girl Emma Watson.

The pair met on the set of Seth Rogan's latest comedy film This Is The End.

Emma gushed about the Diamonds singer: "Rihanna was great! She was just really normal and just very up for being part of the film and doing whatever! She's really laid back."

She told Heat: "We talked about doing hair – she said she liked my short haircut – that made my week. It was awesome – she's really great."

In the movie Emma's role is a tongue in cheek version of her latest role in Sophia Coppola's The Bling Ring.

The Harry Potter star plays a teenager who systematically steals clothing and other expensive belongings from celebrities' houses.

Emma herself has little desire for endless clothes and shoes.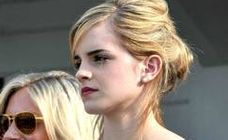 She recently admitted to owning just eight pairs of shoes and explained that she's lucky because she gets to wear all these amazing garments but they are all just on loan.

Like Cinderella, once the party's over it's back to her regular outfits.

She said: "Often you're wearing something that has just come straight off the catwalk and often they need the clothes or the shoes for a photoshoot…so you shed this glamorous clothing at midnight, like Cinderella – and it's gone!

"But it's a real treat to get to wear it when you do!"

Emma also told a pretty grim story about a particularly dangerous pair of shoes while she was filming.

She said: "On The Bling Ring we were filming a scene in a nightclub and this girl had a particularly pointy pair of stilettos on which went straight through my big toenail!

"I looked down and it was just gruesome.

"There are scenes I was meant to be running in and if you pay close attention, you can see me limping! But, all in a day's work, I guess."

Let's hope she has some comfy flats amongst those eight pairs of shoes she owns!

© Getty
Emma Watson at the Harry Potter premiere
Think Rihanna and Emma Watson should team up to be celebrity BFFs? Tweet us @sofeminineuk!