Harry Styles and Taylor Swift caught up in shocking "sex tape" allegations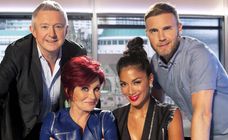 Though the pair split last month, their romance was back in the spotlight when a post on Facebook claimed a very intimate video of the pair had reached the internet.
A post on Facebook read: "The famous singer Taylor Swift had her iPhone hacked Monday and a sex tape between her and former boyfriend Harry Styles has been leaked on the Internet.
"Taylor's publicists are trying to take down all of the websites hosting it, but we found a working one! Watch the video before it's taken down!"
Such allegations will no doubt have had social networkers clicking at the rate of knots.
But One Direction star Harry and his former love can breathe a sigh of relief, as the post was actually a hoax.
By clicking the link, Facebookers were redirected to a number of surveys and pages asking for their personal details.
How dull.
Harry and Taylor attracted no end of media attention when they started dating at the end of last year.
But their relationship wasn't to be and after just over two months together, the singers went their separate ways.
As well as the sex tape hoax, Harry and Taylor also hit the headlines yesterday when it was revealed they would come face-to-face at the BRIT Awards on 20th February.
Harry, 19, will be performing One Direction's Comic Relief single at the ceremony in the O2.
And 23-year-old Taylor has just been confirmed as the final act to grace the stage and belt out a hit song.
The paps will no doubt be poised and ready for any potentially awkward red carpet run-in.
Eeek!