Michelle Keegan's crazy night at Kym Marsh's wild hen party
Since breaking off her relationship with The Wanted's Max George, Michelle Keegan has fully embraced her new single girl life.

Her ex-boyfriend might want to avoid Twitter for the time being, as Michelle's Coronation Street co-star Brooke Vincent has shared some of the crazy photos from Kym Marsh's hen do.

Over the weekend the Corrie stars all got together for a big night out, which was evidently schoolgirl themed, or "school geek" as Brooke wrote on Twitter.

Actress Michelle, 25, is seen wearing the sexy schoolgirl's uniform of choice: a form-fitting white shirt and tie, tiny pleated skirt, knee-high socks and with her hair in bunches, while 20-year-old Brooke looks identical but has covered up with a navy blazer.

The pair look like they're having a very good time, as they pose together seductively with their legs entangled.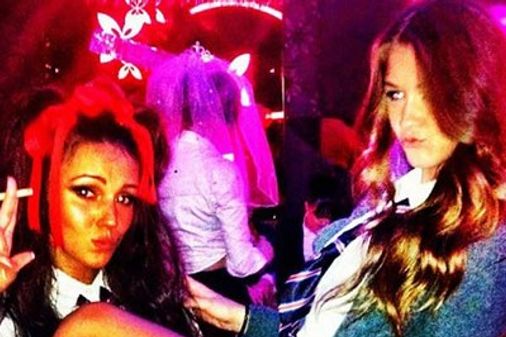 Michelle Keegan's crazy night at Kym Marsh's wild hen party
Clearly hoping to embarrass Michelle with the drunken snap, Brooke wrote alongside the image: "I Bet It Sucks To Be You Right Now?"
No incriminating photos of the bride-to-be Kym have been posted to Twitter yet, although by the sounds of things the 36-year-old certainly had a good night!
After partying the night away at a club in Manchester with Corrie stars Michelle, Brooke and Shobna Gulati, plus former Emmerdale star Shree Murphy, Kym tweeted: "Such an amazing night last night! Keep giggling at things that keep popping into my head! So lucky to have such fab family and friends! X."
Kym's hen party certainly looked crazier than her fiancé and former Hollyoaks actor Jamie Lomas' night out, although she didn't have a dwarf dressed as Mr T!