Miley Cyrus has been snapped with Lily Allen and Miranda Kerr at a VIP party yesterday, posting the pictures onto Instagram.

28-year old Lily is already a huge fan of everyone's favourite twerker, recently saying: "[Miley's] a b**** rising. She's my hero. I just love her and anything that is remotely related to her. And if I could just be her then…"

So we can imagine how excited she must have been when the two posed for a photo together, as Miley not at all predictably stuck her tongue out as Lily smiled delightedly.

Lily - who just released the kick-ass video for her song Hard Out Here - was definitely the normal one out of the pair wearing a Kermit the Frog jumper, whilst Miley was wearing all black with bleached eyebrows. We'll say it again. BLEACHED EYEBROWS.

This wasn't Lily's first famous encounter of the day though, as on her way to LA she ended up catching the same flight as the One Direction boys, tweeting: "First class too the little s***s (ONLY JOKING)." It's good you put a disclaimer Lily. No one wants to anger the swarm of devoted One Direction fans!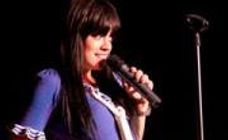 On landing, she then wrote on the social site: "Alas, no mile high club action with any member of 1D for me. Jolly nice chaps though. LA, nice to be here and not on freezing England."

Preach Lily. Avoid the hat and scarf weather for as long as you can!

Miley was clearly making the rounds at the party rather than hanging out all night with Lily though, as she posted a photograph of herself with Miranda Kerr, who is clearly enjoying single life with another Hollywood A-lister following her split from Orlando.

One thing though, perhaps Miley can dye her eyebrows back to their normal colour, as her bleached brows look terrifying!

Who is your dream celebrity BFF? Tweet us @Sofeminineuk

© Instagram
One Direction