Every seductress knows it takes much more than a provocative negligee to set the mood. The music has to be equally sexy. It's only right!

Not sure what tune to twirl to? "You should choose music from any era that suits your personality and makes you feel good," says Dita Von Teese in our How To Striptease Guide: Her personal faves include "Feelin" Good' by Nina Simone,"Purple Wail" by Red Prysock, and "The Stormy Blues" by Billie Holiday.
Usually it's good to go for a song with a slow build so you can work him (and you) into a frenzy before revving up the heat, but most of all it's important to dance to something that makes you feel nothing short of sexual perfection.

If you're not sure which song will do the trick, we've compiled a mixed bag of goods that's guaranteed to get you and your honey HOT and bothered.
Beyoncé- "Dance For You"
Don't be shy. Pull up a chair and "swirl on your babe" tonight.

"Extra credit if you find a pretty chair, like a parlor chair or upholstered chair that compliments your lingerie," says Dita.
Ginuwine- "Pony"
Admit it: you saw this one coming! Let's not pretend Channing Tatum's EPIC Magic Mike "Pony" striptease wasn't the perfect co-sign.
Led Zeppelin- "I Can't Quit You Baby"
Seriously - if this song doesn't have you swaying your hips, peeling off your clothes and licking your lips and all the rest, then girl, you're a lost cause.
Diplo ft. Lazerdisk Party Sex- "Set It Off"
Strippers and poles. Apropos or no?
Britney Spears- "Gimme More"
"It's Britney, b*tch!"

Take charge and demand exactly how much you want with this in the club classic. Get gyrating.
Miguel- "Quickie"
Don't have time for an hour long romp? Opt for a quickie.
Peggy Lee- "Fever"
You can never go wrong with a classic. Peggy Lee's "Fever" has never failed us. Not once.
George Michael- "I Want Your Sex"
George Michael gets straight to the point with "I Want Your Sex." This is cheesy and poppy but it's the perfect song for a fun, flirtatious strip tease. Camp it up and have some fun!
Beyoncé- "Partition"
"Driver roll up the partition, please. I don't need you seeing 'Yonce on her knees." Well, if that doesn't get his attention, combined with you bent over in your undies, then we're not sure what will.
Christina Aguilera, Lil' Kim, Mya, and Pink- "Lady Marmalade"
"Voulez-vous coucher avec moi ce soir?" (Do you wanna sleep with me tonight?) Sassy, sexy and naughty.

Come on! You'll be irresistible.
Rihanna- "Pour It Up"
This banger brings out our inner bad gal...every...single...time. It'll help do the same for you.
Def Leppard- "Pour Some Sugar On Me"
"Pour Some Sugar On Me" is downright filthy in the best way. Just what you need to take your clothes off with true rock chick panache. Throw that hair around - he's gonna love it.
Marvin Gaye- "Let's Get It On"
Does it get any better than Marvin Gaye? We may or may not be heading home right now to enjoy this song in private...
TLC- "Red Light Special"
"I'll let you touch it if you'd like to go down. I'll let you go further if you take the southern route."

Ooh, such a tease!
AC/DC- "The Jack"
Take it off... Take it all off... Slowly. He won't know what to do with himself by the time this song is through.
Ciara- "Body Party"
Turn the volume on high and invite your partner to your "body party" Nothing else is needed.

Did we leave your favorite striptease song off our list? Tweet us @sofeminineUK
And after the striptease how about these positions for some sexy inspiration?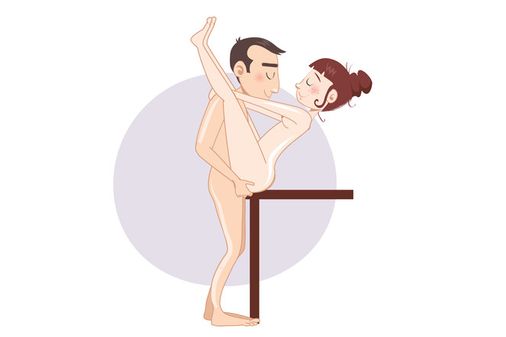 100 sex positions | Kamasutra sex positions