A little definition
Ejaculation is the expulsion of sperm caused by repetitive stimulation of the penis during sexual intercourse (or masturbation). It also represents orgasm for men.
How does ejaculation work?
There are two steps.
- First, the deferential canals (that come from the testicles) expel sperm towards the prostate following sexual arousal. Then semen mixed with sperm is expelled from the prostate and the seminal vesicles towards the base of the urethra. The man feels tension that tells him that orgasm will occur, and he reaches that 'point of no return.'
- Sperm is finally expelled from the body. Very powerful rhythmic contractions accompany ejaculation. These come from the muscles at the base of the penis and from the lower abdomen. During ejaculation, men experience 4 to 8 muscular contractions and orgasm at the same time.
- Note that sperm is projected with a relatively strong force. Most women feel the shock in their vagina.
- The neck of the bladder closes automatically to prevent sperm mixing with urine.
Ejaculation problems
- Premature ejaculation is a frequent problem but not a serious one. It affects around 1 in 3 men, often young men. Sufferers ejaculate at the beginning of penetration and sometimes even before. Premature ejaculation often comes from a lack of control. Ejaculation is a result of an uncontrollable reflex that men with this problem cannot manage to delay to make the pleasure of sex last.
- Anejaculation means that no sperm is released during ejaculation. It is often caused by some types of cancer treatment.
- Dry ejaculation is when the sperm flows back towards the bladder instead of being expelled outwards. This abnormality is often a result of surgery and causes sterility.
- Bloody ejaculation is when sperm contains traces of blood. It's usually benign, but can sometimes reveal the presence of a tumour of the prostate or of certain infections.
- Painful ejaculation is when pain occurs in the urethra, pelvis or anus because of an infection of the prostate.
Two ejaculations in a row: is it possible?
30-45 minutes is the average time between two ejaculations (but this can sometimes be painful). After ejaculation, the penis gradually loses its erection. It's rare for a man to have two successive ejaculations. It depends on the level of arousal, concentration and the physical capacity to stay awake. Rest assured ladies: it's his pituitary gland, not his partner, that makes a man doze off after sex! During orgasm, this cerebral gland secrets endorphins that make him sleepy.
Can you control ejaculation?
As a rule, controlling ejaculation gets easier with age. There are ways to learn to control orgasm, whether he suffers from premature ejaculation or not.
- The cold water effect. Think about something decidedly un-erotic to delay orgasm. Not always easy or nice for his partner. Only use in emergencies!
- Masturbation before sex to reduce arousal at the crucial moment.
- Condoms delay ejaculation, so they're a handy way of making sex last longer, not just for men who ejaculate prematurely.
- The start and stop technique. This American technique consists of asking the partner to apply pressure around the frenulum when he feels he's reaching the point of no return.
Erection and ejaculation
The process of ejaculation is separate from the erection process, erection being controlled by the pituitary gland. Men can ejaculate without an erection, but they can also ejaculate without orgasm (like during the night). Men can ejaculate during the night without necessarily having erotic dreams. These are what we call wet dreams. Nightly ejaculations are more frequent in young men and can be linked to their testosterone levels; however, what triggers wet dreams is still not known. The more a man abstains from sex, the more frequent wet dreams are.
These positions are sure to take him over the edge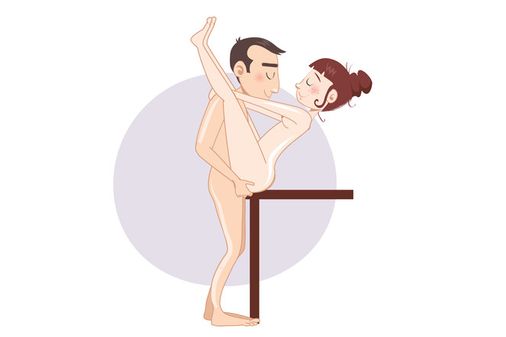 100 sex positions | Kamasutra sex positions