A lot has changed since the release Nancy Friday's seminal My Secret Garden over forty years ago. Little things like the invention of the internet, iPhones and the semi-acceptance that women like to do things like fantasize about having sex. But how much has really changed about wanting to know, or talk about it?
Well Emily says: "Stick a pin in a timeline and women will be presented as either sexual and dangerous or sexless and virtuous. Both of these are equally untrue – and equally damaging."
The relationship between women and our sexuality has been fraught over the years but is this still as tense a relationship as it was in Nancy's world? A world in which Cosmo, yes COSMOPOLITAN ran the first line: "Women do not have sexual fantasies, period. Men do."

Well if we think about slut-shaming, rape jokes, casual sexual inequality then the answer is yes. Sure, we tend to talk a lot more about sex and are on the whole, a lot more open, but there are still things that are a relative no-go.

Some examples... talking about masturbation with your gal pals? Or admitting that you fantasised about Barbie and Ken when you were as young as 6 (it's in the book)? We're guessing not.

What Emily's book does through speaking to a whole load of real life women about their innermost desires, is make things a little bit more normal. What's really interesting about this book is how Emily delves into the political and societal relationship between who we are on the surface and what our subconscious mind really wants.

Dichotomies like "Can you be a feminist and still get turned on by a guy dominating you in the bedroom?" Yep. "If you're straight can you fantasize about having sex with a woman, and vice versa?" Yes again.

So back to the real question, what do we want? Well here's the 7 main areas of fantasy that Emily found:
Submissive fantasies
Onto the first fantasy and it's a biggie, the submissive. From the old Mr Darcy with Elisabeth or the strict schoolteacher overcoming his pupil, to being beaten, objectified and debased the relationship between submissive sex and sexual fantasy is vast.

Generally, Emily says: "This does not mean that every woman with submissive fantasies wants them to come true."
Group sex fantasies
Many women may get off on the idea of having sex with multiple men or women, or watching their partner do the same.

After submissive fantasies, group sex fantasies were the most popular submitted for Emily's book. Possibly because they offer up a whole load of scope for sexual pleasure - not just because there are more people involved.

Mia More, Editor of Cliterati says: "There's a certain degree of anonymity in group sex, and for some it's that uncertainty of who's touching who, and where, that's a big part of the attraction. Add to that the base physical functions that are fulfilled in such a scene – not to mention the sheer volume or sexual stimulation – and you have a potent fantasy."
Dominant fantasies
"As with submissive fantasies, a dominant fantasy can vary from simply seducing a partner who's powerless to resist to forcing sex, inflicting pain or humiliation and beyond," says Emily.

Whether these feature humiliation, worship or things like pegging, dominant fantasies are all about control and a woman's exploration of power. Traditionally we expect men to 'take control' in the bedroom, sometimes the hottest thing is to turn that around.
Exhibitionists and Voyeuristic fantasies
Throughout life women are sold the idea that we are only there to be looked at. Unsurprisingly then, fantasies involving aspects of voyeurism and exhibitionism were rife in the book. However, Emily found that the idea of the 'ideal woman' rarely featured.

Emily says: "Though a couple of women mentioned wearing traditionally sexy underwear, or having idoliosed bodies, on the whole, female exhibitionist fantasies revolved around being watched engaging in sexual acts rather than being perceived as stereotypically 'sexually attractive'. They don't just want to be sexual but to be seen as sexual, reveling in the reaction their sexuality elicits.

From watching other people have sex to doing the deed in the middle of nightclubs, women being watched as well as doing the watching ranked pretty highly.
Partner-sex fantasies
Sex with a partner is a common theme within fantasies. Not just because they are usually the most recent memory of sex that you can draw upon but also as you can pretty much do whatever you want with them – domination, submission, group sex – your partner is there for the ride.

But Emily says: "Though partner sex is commonly used to describe fantasies about sex with an existing lover, of course they aren't always about one's own partner. Sometimes this is a genuine sign of desire but many women said they wouldn't want to have sex with their fantasy figure in real life – more evidence that fantasy and reality are not the same thing."
Which of these positions is your ultimate fantasy?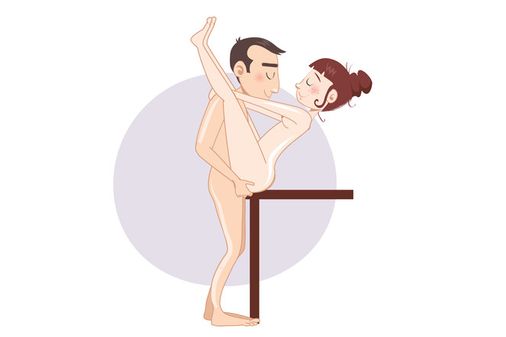 100 sex positions | Kamasutra sex positions
Got a fantasy we've not mentioned? Brave enough to share it? Tweet us @sofeminineuk