Whether you're comfortable talking about your DIY pleasure or not, there's a few hard and fast facts that every girl needs to know about the art of masturbation. From safety first, to getting yourself off, here's the low down on those OMG moments.
Female masturbation

Breaking the taboo
Female masturbation isn't talked about quite as much as male masturbation. In fact, only 60% of women admit to masturbating, we're pretty sure some woman are keeping schtum!

We think it's time to change that. If men can talk freely about a little bit of self-loving, then why can't we?
Going solo, flicking your bean, me time, self pleasure, onanism, whatever you call it, there's no reason to feel guilty about it. It's totally normal.

In fact, we think female masturbation is particularly important because us women find it a lot harder to come during sex, so we need to get that satisfaction somewhere! That's why we've done some research to find out how to make yourself come.
For some of our readers' top tips on how to come, what to masturbate with and a whole lot more of masturbation tips, check out our forum.

Reasons to masturbate
Masturbating is good for you – in fact studies have shown that women who masturbate enjoy much more active, fulfilled sex lives than those who don't.

Also, some self-loving can actually help you to orgasm during sex. That's because masturbation is a good way for you to explore how and where you like to be touched and discover your body: your clitoris, G spot and other erogenous zones.
Once you know how to make yourself come, it will be easier to guide your partner so that both of you have a better sex life.
How to make yourself come

Using your fingers
This is the most common form of masturbation. Sitting or lying down with your legs apart, use your hands to caress and stimulate your clitoris and the area around it.
Start by exploring your vulva, opening your small and large set of lips to get to your clitoris at the front, and use your index finger.
Stimulate your clitoris from top to bottom, or if you're particularly sensitive, make circular movements. Find the rhythm that gives you the best sensations and maintain until you reach orgasm.
Using an object

You can use an object to have vaginal penetration, or you can use it just to stimulate your clitoris – or both at the same time!

For clitoral stimulation, lots of women simply use their fingers, but there are lots of different things you can use.
Obviously, you can use a vibrator, dildo or other sex toys – we've rounded up the best sex toys here. If you've not got a sex toy to hand, there are lots of household objects you can use, just be careful!
Anything that vibrates, like an electric toothbrush (not the end you clean your teeth with!) is good. Make it easier by lying on your front, placing the object between your legs and using a back and forth motion. Find the rhythm and pressure you enjoy best. You may find that using some lubricant can help give you some good results too.
Many people are also fans of using the shower head, letting the water massage their clitoris until they reach orgasm.

To have a vaginal orgasm, you might need to use an object as it can be difficult to access with your hands. Again, a dildo or other sex toy is good.
The main thing is to enjoy it, relax and give yourself some time for you - don't be afraid to be creative and try different things - all in the name of pleasure!
Check out these positions from our kama sutra - for next time you're with your guy!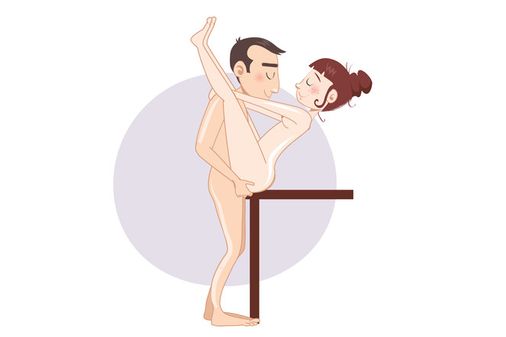 100 sex positions | Kamasutra sex positions