At what age?
In the UK, the average age at which both boys and girls lose their virginity is 16. But statistics are of little importance: the essential thing is not to rush into it and make sure you wait for the right moment. If you want to enjoy your first time, you need to want to do it. Don't put pressure on yourself: stress won't help you relax. Not only is it possible that your muscles could contract and make penetration difficult, you'll also regret your decision in the long run. Only do it when it's right for you.
How do you know when you've lost your virginity?
Once penetration takes place, you are having sex and are no longer a virgin. The erect penis enters your lubricated vagina and makes back and forth movements before finally ejaculating. This might seem quite mechanical but don't worry, it all happens very naturally!
What about foreplay?
Foreplay is an important part, so avoid skipping it! It's the chance for you and your partner to discover each other's bodies and create a closer bond before penetration. Take your time to discover all the unknown sensations that you both enjoy: intimate touching, kissing or erotic massages that turn you on and make you ready for intercourse. The penis becomes erect and your vagina becomes naturally lubricated. If you're not lubricated enough, penetration will be painful. If you experience this, use saliva or an artificial lubricant to moisten your vagina.
Positions?
Although sex can be pretty acrobatic, you can save that for later! You shouldn't be afraid to ask your partner to slow down if you feel pain. The most important thing is to take your time! First time sex is generally easiest in the missionary position (you lying on your back, him on top of you) since penetration is more natural in this position and his penis will find its way into your vagina more easily. The second option is where you sit astride him. This allows you to guide his penis into and out of your vagina, giving you control over the movements.
What is the hymen?
Losing your virginity means breaking the hymen. The hymen is a thin membrane that partially covers the entrance to the vagina. Inserting a finger or using tampons before having sexual intercourse can cause it to tear slightly. Once you have sexual intercourse, the hymen tears completely, which can sometimes cause bleeding and pain. It's also possible that you may bleed again the second time you have sex. Bear in mind that some sports like dancing or horse-riding can break the hymen. If your hymen is already broken, first time sex will be less painful.
Disappointed with your first time?
It's rare for the first attempt at love-making to leave you feeling euphoric. There are a number of reasons for this: fear of pain, stress, etc. Sex is like anything else: the more practice you get, the more comfortable you feel! The vagina isn't a zone filled with multiple pleasure sensors, so it can take time for you to start enjoying sex. Once you overcome your feelings of apprehension, you'll realise that it gets better over time and that penetration isn't the only source of sexual pleasure.
Precautions to take
Just because it's your first time doesn't mean you don't have to worry about protecting yourself. Use a condom to protect yourself and your partner from sexually transmitted infections and talk about protection with him. Consider all the methods of contraception out there, but remember that only condoms protect against both infections and unwanted pregnancies. The majority of other methods only prevent pregnancy. Book an appointment with a doctor or nurse so you can find out about the contraceptives available and discuss which would be best for you.
Here are some positions to try when you feel more comfortable...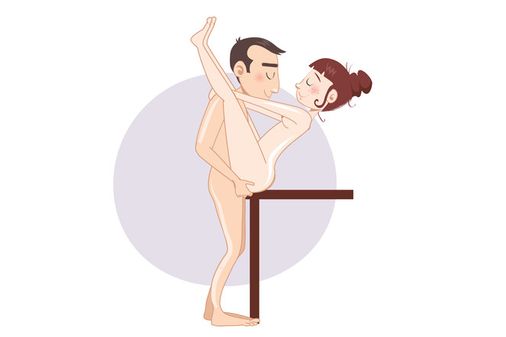 100 sex positions | Kamasutra sex positions