Sex should be fun, playful and anything but boring so why not invest some time and effort into your foreplay techniques? Trust us, it CAN go a long way!
Author of Sex Academy, Dr Pam Spurr says, "For no holds barred pleasure the best foreplay really teases your partner increasing their desire meaning they're far more likely to climax."
There's always a time and a place for a tease and when you're warming up before getting down, there's no better time to use your foreplay skills to your advantage. Remember, it's all about the anticipation.
So to help you make sex exciting again we got together with the best sex and relationships experts out there to share their advice on mind blowing foreplay. Ladies, here's how to fire him up...
1. Eastern swirl and poke
Dr Pam suggests a little trick that your man can use to make you go wild.
"When you've started foreplay and you're kissing and caressing, he should move on down your body and use the 'Eastern Swirl and Poke' kissing technique," she explains.
"He relaxes his lips and allows his tongue to swirl around the tips of your nipples. Then he alternates this sensation with a gentle poking action from the tip of his tongue. He can also move down your body to use on you for oral-sex pleasure." Show him how you like.
2. Go for the grind
Founder of Cliterati.co.uk, Emily Dubberly says it's all about grinding to get you worked up.
"Rather than going purely for penetration or clitoral stimulation, try grinding against your man's thigh or opt for some good old-fashioned dry humping," she suggests." That way, you can stimulate your pubic mound and way more of your clitoris than usual - it can work just as well with your clothes on as off."
One thing for your man to consider is paying more attention to your breasts. Sexpert and owner of online sex retailer Jo Divine, Samantha Evans says, "Most men love boobs but don't give them much attention during foreplay, rushing to your more obvious body parts. Get your man to devote more time, lavishly massaging oil into your gorgeous breasts and concentrating on your nipples with both his fingers and mouth". You'll both enjoy it!
3. Moves like a movie star
Being a bit of a tease is a good thing when it comes to foreplay so when you're getting down to it, why not try and keep up the anticipation for an entire film?
"If you want to really turn your guy on try lubing your hand thoroughly then gripping and releasing your man rather than sliding your hand up and down - this will make it easier for you to keep going for longer.
Position your thumb on the frenulum (the stringy bit that runs from the head to the shaft) as it tends to be the most sensitive. Try teasing him for an ENTIRE film, stopping just before climax then starting again for a truly explosive finish." Works every time. Massage him with YES Organic Lube and watch him go wild.
4. For his ears only
When it comes to stimulating your guy, sometimes you too can forget that it's not just about the obvious areas. Dr. Pam suggests you move your attentions elsewhere...
"A much neglected erogenous zone for him is behind the ears and the earlobes. Create new sensations for him by stroking this area with your fingertips as you kiss.
Better yet if you have long nails gently scratch and tickle behind his ears. Now trace a line with your tongue around his ear lobe, and if you feel like it, start whispering the beginning of a hot fantasy into his ear." Trust us, he'll be up for anything after hearing it.
5. Experiment with new sensations
The trick to fiery foreplay is playing with hot and cold sensations.
Sex and Relationships Expert and columnist for GQ, Christina Wellor says, "An icy tongue on the tip of his penis or a hot mouth enveloping it, will make a blow job even more mind blowing than usual."
Samantha recommends adding some food to the mix too. "Smear chocolate cake onto your partner's face or blob cream on their nose. Relish licking cream or honey from his penis, just like a lollipop! Dollop some jam or chocolate spread on his nipples and listen to him squeal with pleasure as you slowly suck it off." You'll never think of food in the same way again.
6. Control it
Couples often find comfort in familiar things but it's so important to try mixing it up from time to time. Try a new sex toy, or better yet, try a sex toy with a remote control.
Samantha says, "There are several remote control sex toys that you can wear to get your juices flowing, so why not try a We-Vibe Plus 4 and let your man take control of the remote. Slip it in before going to dinner (or even to the cinema) and let your man take control of your sexual pleasure".
The element of surprise will catch them you off guard and heighten your levels of sensory experience and excitement.
7. Oral Sex for him
Sex and Relationship expert Rachael McCoy spills her sexiest secret for mind blowing oral sex for your man.
​
"The key to this is teasing! Don't go straight in for the goodies. Get on your knees looking provocatively into your partners eyes, part his legs and slowly lick his inner thighs in long, soft stroking motions.
Blow over the area that you've just licked to create a different sensation and then lay soft, warm kisses getting closer and closer towards his naughty bits. Use your hands to run over his chest, abdomen and thighs using firm pressure. The contrast of firm and light pressure will have him just about ready to explode waiting for you to get your mouth around him."
8. Mutual Masturbation
It might not be one for everyone, but Rachael says mutual masturbation can be a huge turn-on.
"If you're nervous, start by setting the mood with some music, candles and dressing in something seductive to boost your confidence.
"Make sure that you're comfortable and start to touch and stroke your skin, all over your body using the front and back of your hands. Watch your own hands as they glide over your body and then look up every so often to give him a cheeky smile."
When you've built up enough anticipation, look him dead in the eye as you start to please yourself. Make sure to show him what you're doing when you're enjoying yourself before bringing yourself to full on climax. You doing this shows confidence which is incredibly sexy for him.
To help get you in the mood quicker massage yourself with Durex Pure Bliss, an erotic massager with velvet soft edges that will take you from warm and sexy to HOT and ready. ​He'll never forget it...
9. Arousing the senses
Being blindfolded can be a super-kinky way to take your foreplay to the next level.
Rachael says,"Take turns to blindfold each-other and caress and tease one body part at a time with as many different textures as possible. Try using ice, feathers, silk, a paddle or whip and experiment with different techniques and sensations."
Use toys made from glass or metal, such as icicle or njoy for an alternative sexual sensation to a vibrator or silicone dildo. Samantha says, "These can be heated in warm water to induce a warming sensation or cooled in fridge to create a breathtaking feeling especially around the clitoris and when used on nipples - just like ice cubes!"
Heightening all of your senses will make each touch extra intense - have fun with it ladies.
10. Create your own sex show
Samantha says, "Men are highly visual and become aroused by just watching, so put on your very own sex show and let him see what turns you on. Tell him he can only look, not touch and use your favourite sex toy." He's sure to go crazy.

If you're comfortable, add some bondage to your tease. Rachael says, "Sit your man on a chair in the middle of a room and tie his hands behind his back. Get some sexy heels on and an eye catching outfit and provocatively walk around the chair gliding your hands over his body as you go.
"When you're ready sit on his lap facing him with your legs straddled around his waist. Dominantly move his head to one side as you lick and gently bite his neck and earlobes.Then wrap your arms around his shoulders and gyrate over his bulge without letting him enter you, with your breasts pushed against his chest until he begs to be untied."
Use naughty bondage toys such as the Sex and Mischief range of whips, ties and blindfolds to keep him firmly secured to the bed and in his place.
Try our favourite toys and positions for mind-blowing sex...

© www.jodivine.com
njoy Pure Plugs, £59.99
See album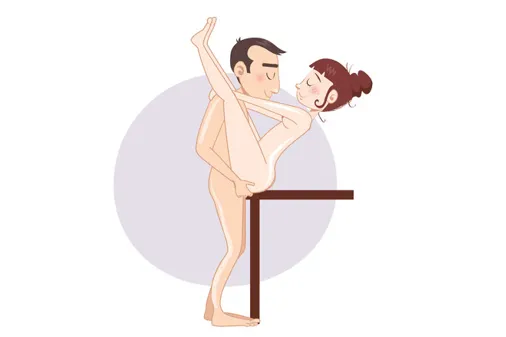 100 sex positions | Kamasutra sex positions
See album
What are your favourite foreplay tips? Tweet us @sofeminineUK!
You might also like:
10 Spontaneous Sex Tips That Will Blow His Mind
How To Have Great Sex! 10 Do's & Don'ts For Mind-Blowing Sexy Time