Ever feel like your thoughts and insecurities get in the way during a hot steamy sesh? Don't let it spoil the fun.

We teamed up with top sexpert and founder of Jo Divine, Samantha Evans who gave us all the tips and tricks we need to know on how to stop trippin' and start having great sex again!
Ladies, here are the top 10 do's and don'ts to get out of your own head and under control…
1. DO let go
If there's one thing you gotta do during sex it's to LET GO.
Samantha says, "You can't be worried about what you look like, how you sound or even what you are doing if you are going to be able to enjoy yourself. Sex is primitive, messy, noisy and fun so let go and enjoy it."
Feeling vulnerable and becoming intimate with someone isn't easy, but if you don't try to relax and completely let go of your inhibitions you'll be missing out on some insanely good orgasms.
2. DON'T concentrate too much
Sex was never created for focus so when you're constantly thinking about what you're doing or how it feels you're actually missing out on some truly powerful feelings. Don't worry about what's going on around you, lose yourself in the moment!
"We need to switch the chatter off in our heads and let the waves of pleasure flow over us. If you are constantly thinking, "Am I there yet? Will it happen? When will it happen?" you won't orgasm", says Samantha. Touché!
3. DO let him know it feels good
Don't you love it when your man says how great you feel? Well, men need validation sometimes too, especially when it comes to pleasure.
Samantha says, "By letting your partner know what feels good, he can concentrate on doing it even better. Most men welcome some guidance on what they should be doing and if they are doing it right, the sounds emanating from your throat will indicate if he has hit the spot!"
​Don't be shy about it, voice your feelings and make sure your needs and wants are heard and understood. Remember, men can't read our minds and they don't take well to hints either! Be spoken.
4. DON'T lose control (of him)
When it comes to sexy time pretty much anything goes. So why not go 50 Shades on your man and throw him on the bed. Dominating is HOT.
Samantha says, "Rather than lying back and letting him do all the work take control and dominate him: you might like it and I'm sure your partner will love it. Concentrate on how his body responds, what he really enjoys you doing to him and the effect you have on him." Blow. His. Mind.
5. DO mix it up
Explore your sexuality by trying new and unfamiliar things. Things like trying new positions, introducing a new toy or even watching porn together will allow you to find out what you like and what you don't.
When it comes to finding THAT perfect position, Samantha recommends changing positions frequently and experimenting. She says, "Find that special position that is just right for both of you – you may be surprised at how different and better sex can feel in this position."
But don't forget to have fun while you're doing it! Sex isn't as serious as you think.
6. DON'T ignore foreplay
I'm sure you know how important foreplay is in the bedroom, but more often than not men forget. It's a well known fact that women tend to take longer to peak so it's CRUCIAL to make sure you're getting what you need to keep you hot and ready to go.
"Spending time on this is a great way to explore each other's bodies and find out what feels amazing. Mutual masturbation using sex toys and lubricants can be extremely arousing and can introduce you to new levels of sexual sensations", says Samantha. If you haven't used toys before start with a massager such as LELO's Siri 2, which gives you total power and ease of control.
7. DO try a sex toy
There's nothing hotter than having your man watch while you have your way with yourself. Ask any man and he'll tell you it drives him CRAZY for you. ​If you feel shy and uncomfortable at first, start by having him take total control of the toy. As tension fades and you begin to feel the surprising sensations, don't worry, confidence WILL find you.
​Samantha says, "Sex toys are fun and come in all shapes and sizes. Instead of a classic vibrator why not try a beautifully designed glass Icicle to experience a different sexual sensation. Ideal for cooling down in the fridge to take your breath away or heated up in warm water to create a sensation to get you all hot and ready to go."
We recommend going for the Icicles Phallic Blue Twist Luxury Glass Dildo which is made with non-porous and body safe glass so you can relax and tune out of the world.
8. DON'T neglect the power of lube
Lubricants are a lot funner than you think. Samantha says, "Mentioning the word 'lubricant' in a sexual manner makes most people imagine older women experiencing vaginal dryness as a result of menopause, but sexual lubricants can benefit both men and women, whatever their age.

"Using a good lubricant such as YES Organic Lubricant will not only make sex feel good but will enable it to last for longer." There's a ton of variety out there too so be sure to experiment. Try the flavoured or hot and cooled one's, trust us, the sensations will be like nothing you've ever felt.
9. DO play fight with your partner
If there's one make or break thing for a guy in a relationship it's without a doubt the FUN factor. Having fun, giggling, tickling, whatever it is that has you both smiling from ear to ear, THAT is what you need to do more of.
Samantha says, "Why not get hot, sweaty and breathless wrestling your partner? It's good fun and will make you laugh so much you probably won't win! But seriously, what man doesn't like to pin down his woman especially when he knows it could lead to other things!"
10. DON'T keep your eyes closed
When we talked about letting go, we didn't just mean relax, we meant throwing yourself full throttle into action and pretending like nobody's there. Taking advantage of all your senses is so important during sex and the same goes for eye contact.
Eye contact may sound pretty simple, but it's actually quite difficult to achieve. "Have you ever made love with the lights on AND your eyes open?", says Samantha.

"Looking at each other during foreplay can intensify the way a couple feels about each other and connect them sexually. ​There is nothing more powerful and arousing than gazing deeply into each other's eyes during lovemaking to increase your sexual pleasure and excitement, oh and take your mind off the laundry basket!"
For ultimate passion and pleasure add these sexy extras to the bedroom…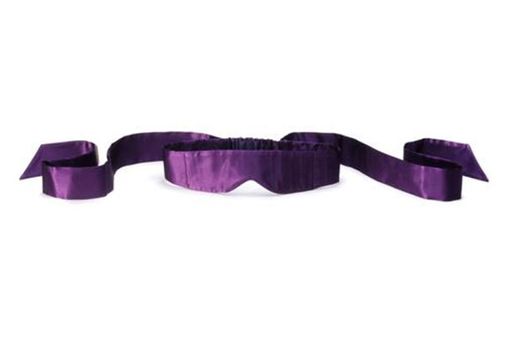 © www.lelo.com
LELO Intima Silk Blindfold Purple, £39.99
What are your good sex secrets? Tweet us @sofeminineUK!
You might also like:
How To Master Sex: 10 Simple Ways To Be Better In Bed
Better Foreplay, Mind-Blowing Sex And Longer Orgasms: Natural Ways To Boost Your Libido