You have been together a while now, routine starts to set in, you hardly have sex, and when you do it's on Wednesday nights at around 8pm.

That's no way to live, sex is way too much fun to not enjoy it, so to help you out, we've rounded up our top erotic games so you can add some va va voom into your self life.
Amazing sex life here we come... and cum you shall.
1. Play on
Dildos, vibrators, the bullet and everything else Ann Summers as to offer. Invest in a good sex toy that you can play around with when you're alone or with your partner. These toys come in different shapes, sizes and colours, so if you're not sure which sex toy is right or you, take a look at our top 15 sex toys.
Role-play and dressing up
Pretend you're someone else for a night of hot sex. Discuss your favourite erotic stories with your partner, decide what your roles are going to be and then get ready for an unforgettable night.

Sexy nurse, eager student or French maid? How about playing the dominatrix or dominated? Second-degree dominating is absolutely fine - you don't need to go for full-on S&M to have fun!
Also discover how good it feels to touch your partner or be touched while blindfolded with a satin mask over your eyes for a bit of gentle submission.
Two can play that game
A flirty sex game is a great way to stir things up in the bedroom.​

There are classics like strip poker. Or if you want something a little different you'll find lots of fun games in shops that you can try out. Why not try two dice with instructions (lick, touch, etc) and body parts (mouth, breasts, buttocks). Easy, sexy, fun!
Wet your appetite
Your mouth plays an important part in sex, so make kissing and licking more fun by introducing different tastes. Spread chocolate sauce, honey or whipped cream on your bodies and enjoy licking them off - and to make it a bit trickier, no hands allowed! You can also get hold of scented and edible lubricant massage gels.
Sexy strip
Think Dita Von Teese, anf tease him with a sexy strip.

Lose your inhibitions, be a sexy stripper and perform a teasing, sexual dance. It's an opportunity to dress up in outrageous lingerie and try accessories like nipple covers and pasties! To find out how to do a seriously sensual striptease, take a look at our tips.
Or try some of these kinky positions from our kama sutra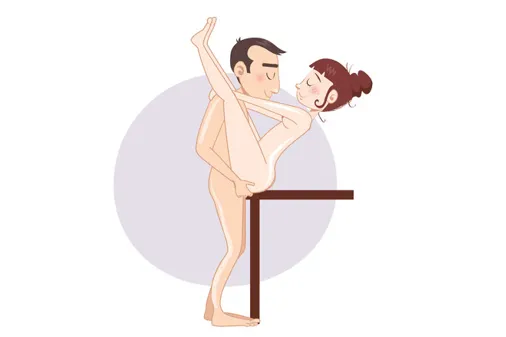 100 sex positions | Kamasutra sex positions