In case you were in need of some reassurance, yes, women's bodies are in fact majestic. They're equipped to do some pretty amazing things (not that we're bragging or anything, fellas).

Our latest and greatest discovery of our anatomy? The inimitable G-spot orgasm. We're sure you've heard of it. You've probably even dismissed it as a myth. But did you know the G-spot isn't just an urban legend cooked up by some sex-crazed fiend? Nope. Not only is it real, it's actually freakin' awesome.

Carmelia Ray, author of the E-book "Finding the One", is an Online Dating and Matchmaking Expert, who gave us all the goods on climaxing via our G-spot. With over 20 years of experience under her belt, let's just say she knows exactly what she's talking about.

Here's what she had to say about G-spot orgasms.
What is the G-spot anyway?
Sure you've heard all the hoopla about the G, but you still don't know what it is. No worries, because we've got you covered!

According to Carmelia, "In non-technical language, the G-spot, which is also called the Grafenberg spot is known to men and women as the 'spot' located inside the vagina, that when stimulated or hit, actually causes female ejaculation or a woman to 'squirt.' Squirting is a powerful orgasm associated with large amounts of fluid (not urine) from the urethra."

Sounds fascinating, huh?
Can everyone have a G-spot orgasm?
Of course we had to ask our expert if every woman is able to reach orgasm via her G-spot. Hello! Million dollar question much? Her response was actually surprising.

"Health professionals may argue that everyone is capable of having them, but there are many women who will never or have never experienced a G-spot orgasm," Carmelia revealed. "Your G-spot is not easily located and must be stimulated by a toy, fingers or penis by applying direct and persistent pressure to your G-spot in order to initiate the orgasm."

But don't feel defeated. You won't know what your body is capable of until you give it a shot.
Where can we find this magical thing?
Well, the first task on the orgasm train is locating that elusive G-spot. Carmelia let us know that it can be found 1-3 inches on the front of the vaginal wall, between the vagina and the urethra.

"If you are interested in discovering your G-spot, then absolutely try to find it yourself. Although finding it with your partner is a lot more fun isn't it?" she explained.

So don't be shy, finder's feelers.
What are the best positions to get it just right?
Let's be clear about one thing: positioning is everything!

"Propping pillows underneath the female's lower back or buttocks to raise her pelvis is a great way to help stimulate the G-spot," Carmelia revealed. "In addition, a woman 'on top' with proper grinding will also help the stimulation, as she is able to control the depth and angle of the penis."

You heard her, ladies. Don't be afraid to take control!


Will it give us a 'I need to pee' sensation when we find it?
YUP! When you do hit the spot, you will definitely feel the sudden urge to run to the bathroom and pee. But hold it right there! It's only a false alarm. What really happened is that you've hit the jackpot.

Hello, euphoria.
How exactly do you reach orgasm?
It's one thing to find the G-spot, it's a whole other ball game when trying to achieve orgasm. What do you do? How much pressure do you apply? How long does it take?

While our expert admitted there isn't an exact formula to nailing it, there are certain steps two willing participants can do to help ensure orgasm.

"The very FIRST step before attempting to find your G-spot is that the female has to be very aroused and that he will be patient and gentle about it," Carmelia began telling us. "The amount of direct pressure applied is whatever feels comfortable for his partner but there needs to be a gentle force directed on the surface of her G-spot." But you're just getting started.

"He needs to know what it feels like and SHE will know because 'hitting' her G-spot creates a very unique and different sensation in her body which is not experienced with clitoral stimulation."

From there, it's up to both parties to maintain that rhythm until she climaxes.
Should we use sex toys for backup?
Playing with toys won't hurt, and Carmelia agrees.

"Toys really do make a difference if for any reason the man or woman is not able to locate the G-spot with their finger or penis or apply enough continual force to achieve the orgasm," she says. "You can easily get tired of looking for it or frustrated, causing your fingers to become sore or the penis to lose it's erection from the mental pressure."

Looking for a toy that will get the job done? Our expert recommends a G-Spot Vibrator.
Is it actually more intense than a clitoral orgasm?
Oh, you better believe it.

"I would argue that G-Spot orgasms are more intense than clitoral orgasms because they are just two different feelings," Carmelia told us. "When a woman begins to squirt, this does seem to amplify the emotional and sexual connection between two partners. Men certainly feel a sense of accomplishment when he's able to give his woman a G-spot orgasm. It's truly mind-blowing if you can experience both at the same time."

Um, sign us up!
Should we prepare for a flood?
Make sure you and your partner are prepared for the massive rush of fluids that will come your way once you climax. While it may resemble pee, our expert says, "There is typically not a foul or strong odour but there may be a slight smell to it."

See, nothing to worry about. Just. Be. Ready.
How does it feel once we climax?
While Carmelia informed us it will feel different for each woman, she revealed there will be, "a sense of release and relaxation, particularly when you are 'squirting' or experiencing female ejaculation."

Oh, but it gets better.

"Physically your heart will be racing, your breathing is fast and heavy, and you feel as if you're literally exploding from the inside out," she went on. (WOWZA!) "You may experience mild contractions and tightening of your vaginal canal as you are in an awe like state with the newness of this sensation."

Ok, now we're blushing.
Does it really live up to the hype?
That's up to you to decide.

"This is such an individual preference based on how one feels about their orgasm," Carmelia explained. "The hype is more about the awe surrounding the ridiculous amount of fluid (in many cases) released from the woman's body."

In essence, you won't know what all the fuss is about until you've given it a shot.
Try stimulating your G-spot with these sex positions!

© Kamasutra
Kamasutra
See album
What are your thoughts on the G-spot orgasm? Did you learn anything new you're willing to try? Tweet us @sofeminineUK
Check out our kamasutra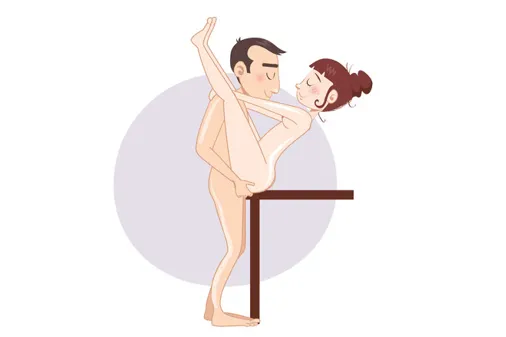 100 sex positions | Kamasutra sex positions
See album
You Might Also Like:
From Pain to Lube: The Truth About Anal Sex
Don't Bother: 12 Sex Moves That SO Aren't Worth It