The origin of orgasms
'Orgasm' comes from the Greek word orga, meaning to explode with pleasure. It's the climax of sexual pleasure, arriving suddenly after stimulation, and lasting just a few seconds.
It's the most intense form of pleasure that human beings can experience. The sensual rush is followed by a period of relaxation, satisfaction and calm.
Physical signs
So what does that mean in a physical sense? You may be shocked to hear how much actually goes on with your body when you orgasm. Great for the body and the mind. We likey.

His orgasm: When men 'come' or orgasm, they ejaculate and their pelvic muscles contract.
Her orgasm: When women orgasm the clitoris retracts, the vagina, pelvic floor muscles and uterus also contract in short bursts.
A few women also secrete a whitish liquid during orgasm. This is known as 'squirting,' or female ejaculation.
As a couple, both partners' heart rate will increases and blood vessels will dilate. The physical pleasure leads to the release of endorphins that create feelings of relaxation and contentment. Where do we sign up?
How to reach orgasm?
Stimulation of the genital areas (through foreplay, oral sex, masturbation and penetration) often leads to orgasm in both men and women. But it's well known that women are a lot less familiar with orgasms. As always, sometimes women need to work harder to get what they want.
It can be harder for women because women masturbation is often more taboo and it takes a little more than a little rub and tug to get us to reach climax. It is best to familiarize yourself with what turns you on in order to make reaching climax easier. No reason to make your life that much harder, know what I mean ladies?
How to achieve orgasm more easily
The best way to reach the dizzy heights of orgasm is to know your body inside and out (literally).
Women have many pleasure sensors which, when correctly stimulated, will send you straight to seventh heaven - but you need to know where to find them!
The answer is to masturbate on your own and explore the many orgasmic possibilities. That's right, we are encouraging you ladies to treat yourselves to a some candle light, a Nicholas Sparks movie and a vibrator for one.
Get to know your erogenous zones:
The clitoris is a little 'button' situated between the folds of the labia at the front of your genitals. It's easy to access and is very sensitive to touch. It has more nerves than the entire male penis. Chicks before dicks.
The G spot is situated close to the bladder, behind the pubic bone and the urethra, about 4cm away from the entrance to your vagina.
Regularly stimulating it by applying repeated pressure, using your finger or a sex toy, will make you more aware of it and the sensations it can produce. You need to get to know yourself better than any man ever will in order to climax regularly.
The best part is once you know what makes your toes want to curl you can direct your partner so he can give you maximum thrills.
Female orgasm: the stats
A distinction needs to be made between clitoral and vaginal orgasms, the latter being a lot more difficult to reach. Usually you need to do a little bit of both to get all the pleasure you deserve.
95% of women reach clitoral orgasm through masturbation but only 45% reach it from their partner's touch. Come on partners, step up your game.
And only 30% of women experience vaginal orgasm during penetration. That's right gents, we need to be doing just as much work as you do in the sack to climax.
Quite a depressing figure considering that some sexologists claim vaginal orgasms are a lot deeper and more intense than clitoral orgasms. Ugh, of course they are.
Cum again?
But there is an upside - while men experience a refractory period after orgasm (a recovery phase during which no amount of stimulation can bring about an erection), women can experience multiple orgasms! That's right, we can orgasm multiple times in one session, thank you mother nature.
Need some more inspiration for the bedroom? Look no further...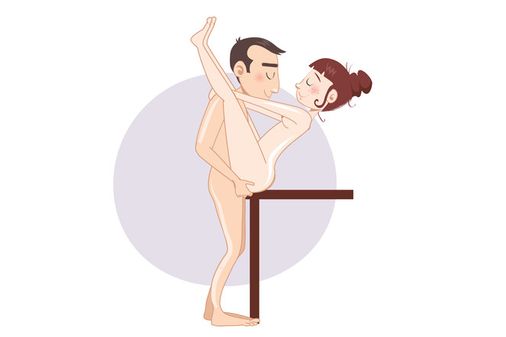 100 sex positions | Kamasutra sex positions
Do you have tips for reaching orgasm? Tweet at us @sofeminineUK!
You might also like:
How To Master Sex: 10 Simple Ways To Be Better In Bed