Everybody knows the missionary position, but there's a multitude of other ways of getting intimate between the sheets. Here's an outline of the most well known positions to spice up your lovemaking.

Missionary
Description: The classic, most natural position that only humans use. You lie on your back, legs open. Your partner penetrates you, lying over you, leaning on his knees or elbows so that he doesn't put too much weight on you.
Pleasure points: The man gets more out of the missionary position than the woman. He controls everything: the rhythm and intensity of penetration and the angle. With little room for movement, you can only move your pelvis or legs to obtain better clitoral stimulation. In short, ecstasy isn't guaranteed.
Advantages: Ideal for romantic lovers, this position encourages eye contact and kissing. Your bodies are in full contact with each other, face to face, you can look each other in the eyes and embrace affectionately. It's easy, natural and perfect for first-time sex.
Disadvantages: Sometimes judged too monotonous and boring, the missionary position has a rather routine reputation. It's love without tiring yourself out.

Cowgirl
Description: Ladies, here's the key to sexual domination! Its name comes from the image of you "riding" your partner as a cowboy rides a bucking horse. In practice, the man lies down on his back while you sit or squat on top of him.
Pleasure points: Sexologists often recommend this position to women in search of vaginal orgasms. It encourages female pleasure because the woman is in control: you choose the angle of your body, the angle and depth of penetration and the rhythm of the movements. What's more, the cowgirl position is ideal for stimulating the G spot because the area at the front of the vagina gets special attention.
Advantages: Your man's hands are free to caress your clitoris, bottom or breasts while you ride him. Also, this position tends to slow down the male orgasm, so it can be useful for men who ejaculate too quickly.
Disadvantages: While lots of men like to satisfy their submission fantasies, others don't appreciate being dominated in such a way. It's up to you to show him that this position can bring him plenty of pleasure!

Doggy style
Description: The doggy style position has animal connotations because the woman is positioned on all fours and the man, on his knees, penetrates from behind. It's a position that men, in particular, fantasise about.
Pleasure points: This position allows very deep penetration and a full union of your bodies. Penetration can also take place slightly to one side, to the top or bottom, depending on the angle. This allows a very diverse range of sensations to be explored!
Advantages: The man can easily access the clitoris during penetration and add to the woman's sensations. He can also let his hands wander over his partner's body.
Disadvantages: The most romantic of lovers won't appreciate this rather bestial position, which doesn't involve eye contact. The man also needs to be careful not to go in too strong because the depth of penetration can sometimes be painful for the woman.

69
Description: As the famous number suggests, the two partners lie top to tail on their sides or one on top of the other. The man's mouth comes into contact with the woman's genitals and vice versa, and both perform oral sex on each other at the same time.
Pleasure points: The 69 is two-way pleasure. Each of you have access to the most sensitive parts of each other's bodies with the lips and tongue. The clitoris, vagina and penis are simultaneously stimulated for a moment of intense, shared pleasure.
Advantages: Carried out as foreplay, the 69 is an ideal position to increase pleasure and arousal.
Disadvantages: Some people don't like the 69 position because concentrating on the other person's pleasure stops them from fully letting go and enjoying their own sensations.

Spoons
Description: A very visual expression: the two partners lie down on the same side, like spoons. The man is pressed against the woman's back and penetrates her from behind.
Pleasure points: Like with the doggy style position, the spoons position allows deeper vaginal penetration, which is enjoyable for both partners. The joining of bodies from head to foot creates a feeling of fusion.
Advantages: It's a relaxed position, great for when you're tired after a night out, for example. It calls for soft, slow and tender movements, and is ideal for amateurs. Also, pregnant women will appreciate being able to make love without being bothered by their expanding belly.
Disadvantages: You need to be keen on calm, snuggled-up lovemaking. It's not for those who prefer full-on action!
Check out these sexual positions in our kama sutra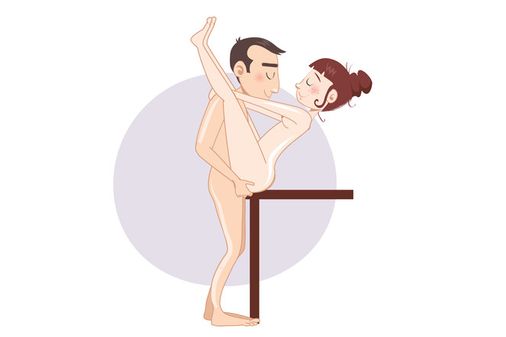 100 sex positions | Kamasutra sex positions