Liam Payne reportedly almost found himself in a bar brawl with some Tottenham Hotspur football players last night.

The One Direction singer was sitting in the VIP section in Mayfair's Funky Buddha nightclub with four of the North London club players.

The footballers were being served jeroboams of vodka by a female waitress and apparently became more and more boisterous in their jokes with her.

Liam, 19, was reportedly compelled to confront the rowdy group after noticing that she'd become uncomfortable by their attention.

The newly single star marched over to the table - where the minimum spend is a casual £5,000 - and asked what was going on.

Unsurprisingly, the sportsmen did not take kindly to being approached by the 19-year-old and demanded to know what Liam's problem was.

© Getty
Liam Payne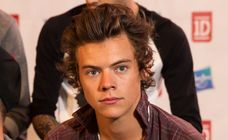 One of the sportsmen was apparently seen squaring up to the young pop star, but friends calmed them down before any fight broke out.

A friend of Liam's told 3am: "The footballers were with four other guys and two girls, and had vodka and various mixers on their table. Liam was with friends a few tables away.

"Out of nowhere were there was a commotion, Liam looked over and thought the players were giving the waitress a hard time. He went straight over to sort it out.

"You've got to admire him for wanting to help the lady."

The altercation took place at 2am early yesterday morning, despite the players having an important league match on Sunday.

The Spurs manager had given the lads this morning off from training and they chose to let their hair down - and they probably weren't bargaining for a bust-up with one fifth of the world's most popular boy band!

Ah, so chivalry isn't dead then.

It's a rather eventful time for Liam - as One Direction today made their hugely-anticipated big announcement.

© Getty
One Direction