It's not often you find a girl with the wardrobe expertise of Victoria Beckham, the career goals of Oprah Winfrey and the scent of sniffer dog when it comes to high street Chloe dupes, but alas we've found THAT girl.

This week we had the pleasure of meeting the enviably stylish Emma Hill of EJ Style. She filled us in on everything from her trip to blogger island - (ahem, where was our invite?) to her beauty must-haves.

Don't forget to follow her Instagram takeover on @sofeminineUK today!
Why did you set up EJ Style?
It was an outlet for me to express my creativity with fashion. When I started the blog almost 7 years ago, I was a Retail Manager so it was all number crunching and figures - all the boring stuff!
Why did you decide on that name?
I didn't think it through at all, this was when blogs first came about so I had no idea where it would lead and that it would become my brand. I chose to use my initials (Emma Jayne) and my style, so I landed on EJ Style.
What can people expect on your blog?
Personal style posts for sure! I like to use high street as much as possible to show that you can look good without it costing a fortune.I also feature the odd beauty and lifestyle post here and there.
What's the best experience you've had through blogging?
I have been taken on a few trips abroad which was great fun, but more recently I was taken to an island off the coast of Essex with a brand and 11 other bloggers. This was great fun and we all sat and shared tips and experiences with each other. Sometimes it's about making great memories, not just free stuff and dollar signs.
What can we expect on your Instagram take over?
Snippets of my personal style, the odd flat lay and more than likely some food, because the camera eats first!
Who do you check in with every day on Instagram?
I have a quick flick through my feed when I have the chance but I like to make sure that I try and respond to as many comments/questions on my own pictures as possible. After all it's my followers that are supporting me so I like to interact with them.
What's been your most popular post / the most meaningful thing that's happened to you on Instagram?
My most popular post was the first picture of my engagement ring, it was so nice to share the moment of getting engaged with my followers.
What do you think will be the next big Insta trend?
I'm hoping Instagram video will take off a little bit more, there's so much potential there, you can do a lot of with 15 seconds! Liketoknow.it is also fast becoming a huge success, making Instagram shopable, that's what we needed from day 1!
What top tips would you give for Insta success?
I don't think there's a specific formula, luck will come into it at some point, but I think to draw people in you need to make it aesthetically pleasing.

Decide on a running look to your pictures and stick to that when posting. I like to post up to 4 times a day (spread out) and I think that's a good volume of posts for one day.
What are your top styling tips?
I like to mix up an outfit, if it appears to be a predominantly feminine look then I like to add in a masculine piece to toughen it up. I'm also a big fan of the classics, you can't go wrong with a blazer, jeans and tee combo. I feel like I say that on a weekly basis on my blog.
How would you describe your Instagram style?
It's all pretty uniform, it's important being a blogger to make sure people can identify your 'brand' across all of your platforms.
What makes a great Insta post?
Natural light! Whether it be a flat lay or a professional dslr outfit shot, natural light is key! I like my feed to be bright.
What influences who you follow on Insta?
I want to be inspired, so I'll look to women who have made themselves into a 'brand'. The images themselves are also really important.
How important is the image itself on Insta or do captions play a part too?
I think it's mainly down to image, I don't think that many people read the caption box, although I do like to add a touch of comedy in there where possible.
How difficult is it to stand out in the pool of Instagram fashion bloggers?
I think too many people stress out about 'making it' on Instagram, effort does have to be made but so long as you can be original in some way then the rest will follow.
Final words of advice/top tips?
Use your hashtags, but don't go 10 lines worth of crazy with them, stick to the classics #wiwt #ootd #fwis etc.
Fave place to shop?
Zara! (girl after our own heart)
Fave beauty buys?
Currently Maybelline Bronze BB Cream because I've just got back off holiday and none of my make-up was suitable for my now tanned face. This stuff is great for a tan, it adds a slight shimmer and is so lightweight.
What's next for Emma and EJ Style
I'm still debating the idea of YouTube, but with fashion it's a tricky one to master and very time consuming! So I'm just going to continue creating content which my readers want to see and hopefully working with even more brands. I'd love to travel a little bit more!
Check out more of Emma's best looks!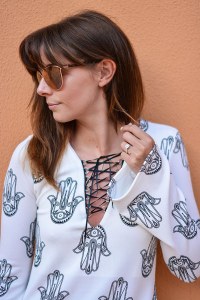 © http://ejstyle.co.uk/
Follow us @sofeminineUK to see Emma's #InstaStarSF takeover today!
Do you know someone who's worthy of becoming Sofeminine's next Instagram star? Get in touch @sofeminineUK
You might also like:
Introducing Our #InstaStarSF Of The Week: Lorna Luxe
#InstaStarSF Of The Week With London Tall Girl
The 14 Instagram Accounts That You Have #OOTD Down (And You Need To Follow Right Now)