Dressing for two isn't easy when you've got a blossoming bump to consider. Sometimes you'll feel like wearing nothing, other days you'll befriend jogging bottoms. Oh the perks of an elasticated waistband!
The key to pregnancy style is striking a balance between comfort and fashion. Nobody expects you to totter round in six-inch heels and swollen ankles a la Kim Kardashian but with all those hormones going into overdrive, it's important you feel good about yourself.
Although mothering comes naturally, getting a bump dressed in the morning doesn't. After all, they never teach maternity fashion in the antenatal classes, so consider these tips and tricks your maternity wear education.
All these changes can make shopping for clothes a daunting task. Suddenly everything is bigger and you've got to accommodate for these brand new breasts that have arrived in your bra. It's like being back at square one after years of working on your personal style.
So here's some handy tips to make these next nine months your most fashionable yet.
Fashion vs Comfort
​​Believe it or not, you don't have to forfeit your fashion identity during pregnancy.

Fortunately for us the maternity market isn't all about the big and baggy thing any more. There's plenty of comfy and chic options out there it's just a case of finding one that works for you and baby.

It's easy to go into default mode and lose all sight of your individual style but good can come from balancing fashion with comfort.

Putting on weight is never an enjoyable experience so it's essential that you look and feel comfortable in what you're wearing but that doesn't mean depending on your stretch-fabric leggings on an everyday basis.

Pregnancy clothes can be just as flattering as any regular clothes so when it comes to dressing your bump don't just reach for the nearest oversized shirt.
Cecile Reinaud, the founder of Kate Middleton's fave maternity label, Seraphine, says: "Make the most of your cleavage by opting for low neck lines and plenty of bright necklaces to bring out that pregnancy glow.

​"In the last three months of pregnancy you will crave comfortable and soft fabric so I would recommend trying maxi dresses or skirts as they give a very flattering silhouette at this stage. It's also a good time to think ahead and look for tops and dresses that will enable you to breastfeed if you wish to."
Consider what you would have selected before your pregnancy, what stands out and how would you wear it. You can still make a statement, after all, your bump is your most precious accessory.
This is your body, your bump, your life
Try not to get too caught up in the celebrity mum thing, or even comparing your body with your BFF's.

When it comes to body shapes pregnancy effects the apple differently to how it would effect the pear so don't get too hung up on other people's experiences.

Your lucky pint-sized friend may well have gained a perfectly round bump and bypassed the double chin and swollen everything but don't make your body compete with unrealistic ideals.

Your changing body shape and baby bump is unique to you so whilst the fashion tips your best bud's dishing out might work, don't be afraid to veto her advice when it's not working for you.

Embrace your bigger breasts and Beyonce bum – they won't be there forever.
Cecile's got a few pointers: "The first three months you barely show but need to invest in comfortable and flattering trousers and at this stage a loose top is most flattering as your bump is not yet defined enough to look cute.

"​In the second trimester loose cuts won't be flattering and will make you look bigger, so opt for bump hugging styles and accentuate your empire line to define your curves."
Shop yourself stylish
Sticking with the colours and designs that already look good is a surefire way to be fashionable with or without a baby bump.

Black, white and other neutral colours are great, but you shouldn't be afraid of trying bright colours and patterns as well.

Mono-outfits can be very flattering, especially if the fabric is a little bit form-fitting. These outfits accentuate the growing baby bump and show that pregnancy can be beautiful.

However much you're enjoying/loathing dressing your baby bump, it is only a temporary fashion affair so it might be worth trailing the charity shops. Investing in brand new clothes can be costly and second hand shops often sell great maternity hand me downs.

Expectant mums can rely on a wrap-around style tunic which looks great and is very generous in growing space. If you're going to go for a dress then focus on the legs, this can help balance out your proportions and elongate the body.

"Look out for styles that are breastfeeding friendly. A top or tunic that covers your bum is great for skimming your curves and looks great ruched around the hips," Cecile says.
​And don't forget to accessorise! Statement belts, bags or necklaces can really make your maternity outfit stand out from the rest.

Do exactly as you did before. Browse, window shop, try before you buy and take a friend – they'll reign you in when the frumpy dresses come calling.
Steal her style
Don't forget to keep an eye out for pregnant women in the street, see how they've styled up an outfit and see what's working for her.

You might not be able to pull off the exact same look but you can certainly take inspiration from other mothers-to-be.

Other than being a very good opportunity to people watch (who's going to shout at a pregnant lady for staring?) it will encourage you to think about your changing body and remind you to engage with fashion and enjoy picking outfits -a fully functioning wardrobe is well within reach.
Cecile says: "An empire line is often the most flattering silhouette. Look for feminine necklines suck as deep V's and scoop necks to draw the eye upward and show off your new found décolletage.
"​As a rule comfort and good fit should always be priority to ensure you have the utmost confidence."
Embrace the new you
This is an exciting time for you and your wardrobe and a chance to reinvent yourselves, how often do we get to do that?

You get to buy into a totally different style without being accused of having a midlife crisis. Happy days.
"Each trimester requires a different style, invest in key basics that will grow with you and adapt to your changing curves."
Try something new and break a few boundaries and who knows dressing your bump might even be fun.
Check out these pregnant celebs for celeb style ideas: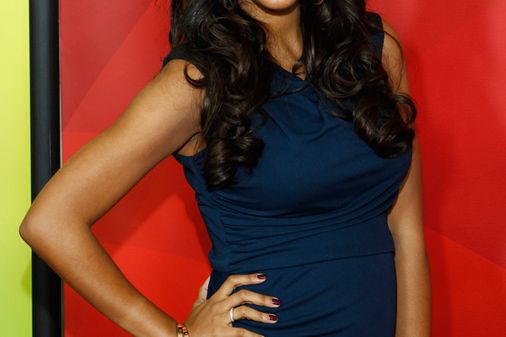 © Getty
How to dress your baby bump: Fashion tips for your nine month wardrobe
Care to share your tips and tricks for dressing your bump? Tweet us @sofeminineuk!