With her 'one album a year' work strategy Rihanna's renowned for her hard graft but her motto doesn't stop at her music.
Rihanna's back with a third collection for River Island and according to her co-designer, Adam Selman, her autumn/winter 2013-14 will be more ambitious than ever before. Where does she get her energy from?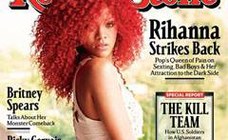 Her sizzling spring summer 2013 collection only launched six weeks ago and already Ri-Ri's back and ready to get stuck into the styling scene already.
This time Rihanna had the challenge of adapting her bare-all Bajan style for a chillier climate so there's plenty of layering and winter warmers to wrap up in.
Adam Selman said: "We had a lot more fun this time round […] The first collection was a lot purer, about finding pieces that Rihanna felt were missing from her closet.
"There is a real concept to this one. I can't give too much away, but we travel so much and experience so much of the world. We're very lucky to do so and that definitely inspired us."
Not forgetting the glamour, Rihanna got hands-on in the creative process, designing festive frocks and party-proof dresses for the Christmas season.
"She loves going out, that's her thing," said Selman. "She really wanted to create dresses that girls want to party in around the Christmas season. The fit and silhouette is very important to her. She knows what she's talking about."
The 80 piece collection will leave you spoilt for choice featuring oversized bomber jackets, gangster hoods and camouflage-prints, it's all about the boy-girl thing.
Rihanna says of her collection: "If I walk into this, I'm buying all of it." We're right behind you Ri-Ri!
Are you excited about Rihanna's AW13 collection? Tweet us and let us know @sofeminineuk
Check out her behind-the-scenes video here: