Apart from sounding like Ikea's answer to runway chic (flatpack fashion anyone?), Normcore is by far the easiest example of fashion jargon to get to grips with. We promise, no dictionary needed.
If you haven't already heard bloggers, fashion editors and designers buzzing over this trend then make it your aim to start listening more because it's simply too chic to miss. Get ready to say hasta la vista to razzmatazz and hell yeah to the bland. Yes, fashion just got BORING. And it's more beautiful than we could've ever imagined.
What is Normcore?
In literal terms it's the marriage of normal and hardcore but the hardcore part doesn't really exist. It's there for effect, to be deliberately ironic let's just say. It celebrates all there is to love about the ordinary, the mundane and the damn right boring because let's face it, life isn't always a bright shiny disco ball.
Anti-style, minimalism, back-to-basics, whatever you want to call it Normcore is untouchable right now and for good reason. Fashionistas everywhere are enjoying a breather from dressing up and choosing to go make the ultimate sartorial understatement instead.
You won't find sequins, loud prints and loaded colour here, this is a destination meant purely for those that want to get away from the bold and busy and indulge in the simple.
Like minimalism, it's a barely there style that suggests raw confidence and authority without actually saying anything. Clever eh? It's not about making a statement, it's about slipping through the net, going unnoticed and enjoying the freedom of fashion anonymity.
It's not about designer name dropping or head turning, Normcore finds joy in the non events of the sale rail; ribbed jumpers, boyfriend jeans, trainers, it's the Zara Basic of high fashion. It's stripped back, it's unpretentious, it's penny plain and doubtlessly easy to pull off.
When did it happen?
Originally, it had nothing to do with fashion. Normcore started as a social movement that absolved mainstream.

Like any 'trend' or non-trend in this case, Normcore is on cycle. It's not a new discovery since hipsters and Adidas superstars have been wearing 'norm' attire since the 90s but it is a change of direction.

For the first time in a long time, fashion is celebrating the average and that seems pretty cool to us in an industry that usually competes to be bigger, better and louder. If there's one thing that Normcore isn't it's a show off.

As New York Magazine put it in February, Normcore is "fashion for those who realise they're one in seven billion".
How do you wear it?
Simply go through your belongings and anything you can easily throw together on a Sunday will no doubt be spot on. From dark trousers and white tops teamed with Converse to jeans and faux Vans to neutral colours and easy tailored shapes, one of the best things about Normcore is that you are already in possession of all the ingredients.
So throw on that pair of well loved jeans, that black T shirt your boyfriend left at yours and team with some Birkenstocks or chunky heels, keep your head held high and act like fashion means NOTHING to you.

Then all that's left to do is wait for your fashion savvy friends to start crushing on your ages old jeans and charity shop biker jacket. Try hards.​
Are you ready for the Normcore storm? Tweet us @sofeminineUK
Check out our gallery of Normcore inspiration!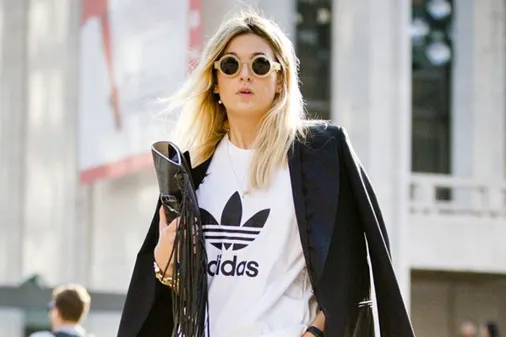 © Pinterest Via wwd.com
Normcore: The Fashion Trend Where Blending In Is The New Standing Out
You might also like:
100 Of The Best Fashion Quotes
ASOS Splurges, Pampering & Doughnuts All Round: 13 Things Girls Do When They're On A Payday High
Trend Round Up: Spring/Summer 2015 Fashion