Fashion fave Alexa Chung is not someone we'd usually associate with English literature, that is, until the British model put pen to paper and wrote a book.
The model announced in November that she would be writing a style book and despite her initial nerves at 'handing in the world's homework' Alexa's style bible is now ready to read.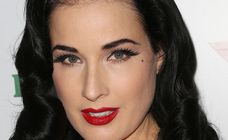 The feminine pink hard-back, aptly named 'It' (makes sense for the ultimate 'it' girl), features a minimalistic close-up of the hazel-eyed model. Leaving everything to the imagination, we can't help but judge this book by its sketch book-like cover.
Amazon's blurb promises "a truly one-off collection of Alexa's personal writings, drawings and photographs" and "inspirations and musings", covering everything from "her thoughts on life, love and music to her favourite looks and how to decide what to wear in the morning." We could all do with a helping hand in that department.
Her literary debut not only gives the low down on how to live life Alexa-style, it's poetic, stylish, musical and philosophical all at once. So she's blessed with brains as well as beauty. The best girls always are.
At the British Style Awards last year she said: "It's not reeeally a style book. See, I think maybe it should be a style book because everyone presumes that it is so I'm missing a trick." Is someone being modest about her style-icon status?
It is available to buy from 5th September at the purse-friendly price of £16.99. But if you're chomping at the bit for a some front row action and style steals then pre-order It now on Amazon.
If her previous success is anything to go by, this is going to be a real page-turner.

© GETTY
Alexa Chung book release: Get your It girl read now