Rigby & Peller were founded in 1939 and are renowned for their specialist fitting expertise where customers can expect to be told their true bra size by eye. No measuring tapes at all.
But a matronly bra fitting service this isn't. This is bra shopping the way Mother Nature intended. If you book ahead for an appointment you can either trawl the shop spying styles you'd like to try - or simply kick back in the seated waiting area, enjoy a beverage of your choice and wait for your bespoke bra experience to begin.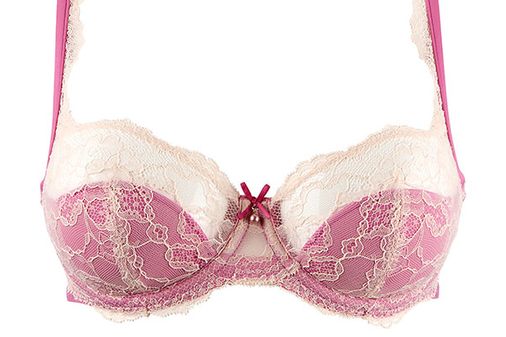 © Rigby & Peller
Marie Jo Lingerie - Adele
Once you're taken through to one of the rather plush changing rooms the Lingerie Stylist will ask you to remove your top and your bra so they can see your breast shape and your body shape. It might feel a little awkward at first, but their bra size on sight service has to be seen to be believed. They're impressively accurate.​
The next step is wriggling into a silk dressing gown and relaxing while your allocated stylist scours the store for the styles and shapes to suit your boobs, budget and brief. So whether you're looking for an OMG lingerie set, everyday underwear or the bridal set of your dreams, the R&P team can help.
Rigby & Peller's Lingerie Stylists are passionate about helping women achieve a great silhouette, believing that well fitting lingerie should be the foundation to every great outfit - something we whole-heartedly agree with.
We asked them to provide some of their best kept bra secrets on how to get the most out of your next lingerie shopping spree:
1. ​80% of the support from a bra should come from the back rather than the straps. A well fitting strapless bra that supports you is a wardrobe essential.
2. Multi way straps are versatile and allow you to create different necklines. Nude or natural colours are especially flattering on paler skin tones.
3. For evening wear if you want something a bit sexier choose a padded plunge to show off your cleavage.
4. Opt for a balcony bra to give a naturally uplifting look.
Head to Rigby & Peller for more information.