After deciding to make some lifestyle changes and get back on the running circuit in January 2014 I realised I needed more of an incentive if I was going to stick this one out.

What I needed was a guaranteed motivator, something that would deliver non-negotiable work-outs. Running a marathon ticked all of those boxes. It would be the ultimate challenge physically, mentally and emotionally.

Unfortunately, an old school friend of mine was shot in action in Afghanistan October 2013 so I had a powerful incentive to raise some cash for Hounds For Heroes in his memory.

I signed up to run Brighton Marathon in April last year and never looked back. I didn't stick to a strict industry-approved program so to speak, not until 16 weeks before race day anyway. Instead I tried to enjoy my summer runs without the added pressure of logging a certain distance or pace.

The training was the hardest bit of it all. Fitting in your long runs when you get further into the schedule is where the commitment really kicks in – especially when I was juggling a Brighton to London commute every day.

When someone asks, 'what are your plans this weekend' and you reply in miles you know it really is taking over your life. I think my friends and family soon learned to switch off as soon as the M word was mentioned – every 10 minutes FYI.

It definitely took its toll on me a few times. The first tantrum I had was when I went on a trail run and a 10K absolutely defeated me. I threw my trainers to the floor, pulled my headphones out my ears and chucked them to the side and had an embarrassing sob to myself. You know it's irrational and unnecessary but you kind of learn to go with the highs and lows and eventually laugh at yourself.

Before I knew it a whole year had gone by and it was time for race day. You're so conscious of the fact that all those months of training have been for this moment right here. But somewhere between the nerves and the excitement, you learn to compose yourself. Your family on the other hand – not so good at keeping it together.

The support from the spectators hits you right at the back of the throat and those are the things you remember. When the volunteers are breaking their backs to hydrate you and the kids are patiently holding out their hands waiting for high fives or you see your family screaming their hearts out for you to keep going. It's those moments you take away with you, not the pain. You soon realise that running a marathon is so much more than just a race. As running coach Mike Fanelli says: "You run the first part with your head, the middle part with your personality and the last part with your heart."

When I finally made it to the finish line I expected to feel a massive sense of happiness. Everyone assured me it would be the best moment ever and it was but it was also met with an almighty plummet the other side. What do I do with my life now? I've had months of saying no to social events, rushing home to train, eating like a horse and enjoying the fitness gains but that's all over now. I'm a free woman and I'm not sure I like it.

I'm toying with the idea of signing up for another marathon but I'm not sure I could cope with knowing what's coming. It was definitely a plus going into it blind.

For now you can mostly find me chasing my Instagram butt dream! Here's hoping it won't involve ice baths and Imodium!
I've put together some tips for those of you thinking about running a marathon. Don't sign up without reading them first​:
My top tips
Find a cause
Don't run a marathon without a goal. Whether it's for charity or your own self-betterment, it's that soul ambition that will pull you through on race day.
Get trainer savvy
Committing to a marathon means getting off on the right foot. You'll need to go to a reputable running shop, ideally where they make you run outside rather than on treadmill.

You'll have a gait analysis to establish your pronation (how your foot rolls when you run) and your dream shoe fate will be decided for you then and there. Yes, they're more money than your standard trainers but for the amount of miles you'll be getting out of them and the level of in-built technology, it's totally worth it.

If you need optimum cushioning and support the Brooks Ghost 7 is your ultimate running crash pad!
Run smart
Do your research, talk to runner friends, do some Insta stalking and come up with a plan that suits you. For the next 6 months this marathon is going to take over your life and you have to be prepared for that. Up your training gradually, vary your runs, do whatever it takes to get through the training injury free and as well energised as possible.

I struggled with boredom during my runs so it's good to switch things up a bit. Try a running focused fitness class like Project Fit Run. The treadmill-based session is specifically designed to challenge the body, boost stamina and improve endurance. For one hour you'll be put through HIIT, hill climbs and intense sprints. Try if you dare!
Don't start too early
I started my training too early and found myself getting bored, resentful and tired by the time my long runs were due. Enjoy small runs and cross-training while you have time on your side and amp up the serious training 2-3 months ahead of race day.
Get a running app
Before I used my Garmin watch I would have been lost without Nike Run. It's great for recording all the essentials: your distance, pace and time.
See a physio
Even if you don't have any injuries (that you know of) seeing a physio will do wonders for aches and pains you didn't even know you had. They're experts after all! I suffered from shin splints and a sprained tibialis anterior throughout my training which later resulted in a hip injury as the rest of my body tried to compensate for my legs.

After seeing Jade Markwick at the Heeler Centre in Hassocks for a few months before race day my mind and body were in a much better state to run. And don't forget to ask them for race day tips – The Heeler Centre's got a huge marathon runner clientele which means their therapists have got a whole heap of tips on everything from nutrition to resting and using spider tape! AKA the holy grail for any marathon runner.
Pamper yourself
If ever there's a time to indulge in a spot of pampering it's before and after the race. I got a massage delivered to my office door (literally) using the Urban Massage app. It makes booking a massage impossible to resist! Feet up and zzz.
It's ok to stress
They'll be times when you think signing up to something this big was a terrible idea. You'll hate on your body when it lets you down, you'll probably cry on your long runs and wonder if you'll ever run again after the marathon but that's all part of the challenge. The best quote I ever read during training was: "Running is simple, but it's not easy."

It's a huge commitment but a life-changing one. You're allowed to feel like you're going a little bit insane every now and again. You'd be abnormal if you didn't!
Get your beauty sleep
Rest is just as important as clocking the miles especially before race day. Make sure you're getting your eight hours to ensure your body is fully recovered and ready to run.
Plan your meals
Think of food as fuel. If you know you've got to go out for a long run on Sunday make sure you eat a carb rich meal for lunch the day before and take in plenty of water. Planning your meals is essential for marathon prep both during training to help your muscles recover and ahead of race day for reserving energy. Recovery protein shakes are great for helping heavy legs get back out on the road.
Round up the troops
No doubt you'll have lots of family and friends coming along to support you on the day. Make sure they have a clear POA to see you at certain points during the race. Spread them out to get a regular boost – 26.2 miles is a long way to go without seeing a familiar friendly face to keep you going. If you only have one member with you get them to scream, shout and jump at the 20 mile mark, that's when you'll need them most.
Nothing new on race day
I heard this phrase time and time again and for good reason. This goes for everything from footwear to food!

That said, I felt like I needed more than jelly babies during race day so I resorted to using the energy gels they were handing out (I hadn't trained with these) and had no unexpected calls of nature. Phew.

My advice would be go with your gut, you'll get to know your metabolism's behaviour during the training period so if you know you have a sensitive belly then steer clear and stock up on Imodium Instants.
Compose yourself and try to enjoy it!
Of course you'll be nervous, that's only natural but take a moment to yourself to reflect. You've trained hard for months to face this moment. Race day is the easy part, you've done the homework and now it's time for your reward.

Nothing compares to that feeling of crossing the finish line knowing you've just done something many others wouldn't even dream of doing.

As Muhammad Ali once said: "I hated every minute of training, but I said, don't quit. Suffer now and live the rest of your life as a champion."
My Marathon must-haves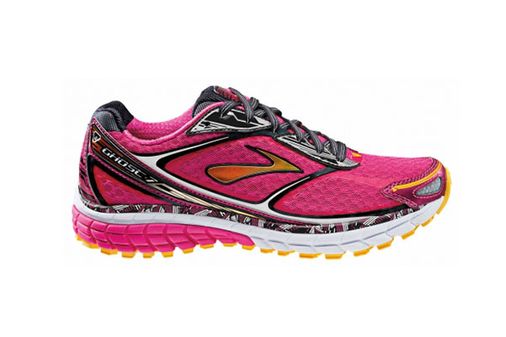 © http://brooksrunning.co.uk/products/1201611B591/en_37/Ghost-7.html
Brooks Running Ghost 7
This article was written by @lareesecraig follow her on Instagram.
You might also like:
25 Reasons Running Is The Ultimate Workout