Cameron Diaz shows off rumoured boob job at film premiere
Cameron Diaz is known for having a super-toned, athletic figure, but at the London premiere of her new movie Gambit she was showing off an altogether bustier look.

The actress certainly turned heads as she walked the red carpet at the Leicester Square event with her co-star Colin Firth.

While the Oscar-winning British actor looked suave in a three-piece black suit, Cameron stole the show in a plunging Stella McCartney dress with a low-cut black top and oyster-coloured knee-length skirt.

The 40-year-old Hollywood star rocked a sexier look than usual last night, which will no doubt fuel the rumours she has gone under the knife for a breast enlargement.

Back in January it was rumoured that Cameron had boosted her chest by a cup size with a boob job, which seems fairly noticeable on her svelte frame.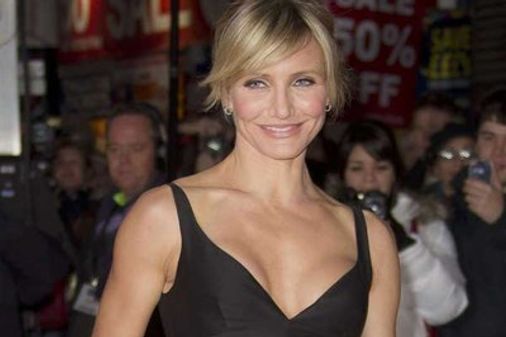 Cameron Diaz shows off rumoured boob job at film premiere
But while everyone was talking about Cameron's new look, she was busy focussing on the upcoming US presidential election.
Earlier in the day, the Bad Teacher actress was anxiously waiting to hear news from across the pond as to whether Barack Obama had been re-elected into office.
She told the MailOnline: "When I woke up this morning at six, I was terrified I was going to wake up to a total embarrassment for my country.
"I'm very proud of our country, that democracy is still intact."
The Shrek actress was clearly in a celebratory mood after learning that Obama won, as she attended the after party following the premiere - and then went on to the launch of Kensington club Bodo's Schloss.
Emerging at 2am, the party girl looked pretty bleary eyed as she covered up her on-show assets in a large warm winter coat.