If you fancy a little summer vacay stateside, (and who doesn't this time of year?) then look no further than this incredible $30 million Malibu beach pad, where jammy Kendall Jenner spent this year's Independence Day with a close group of pals. It's the ultimate in girly getaways and giving us major envy rn.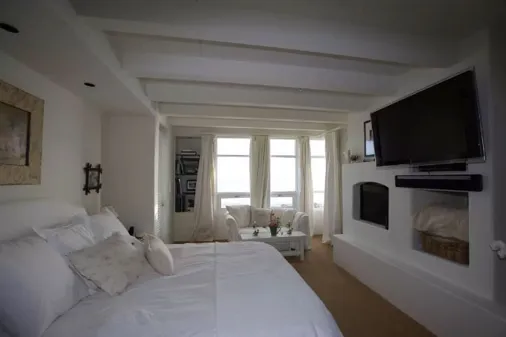 © airbnb
Yup, unlike the rest of her fellow squad members, she was noticeably absent from Taylor Swift's annual bash in Rhode Island - you know the one, where Tiddleswift finally went public to the world and Ryan Reynolds's face gave us life. She traded Tay Tay in for a more chilled vibe in this luxury beach house overlooking the ocean instead. It's got all the essentials: three bedrooms and bathrooms, a cinema room, hot tub, waterfront view... y'know, all the things no holiday home is complete without.
The property is situated above one of Malibu's most exclusive beaches, Broad Beach, and the good news is you could rent it too. Yup you heard us right, Ms Jenner is a fan of popular site Airbnb, where this home is rented, so you too could party like a Kardashian. And it will only cost you a mere $2,200 (about £1,690) per night... well, if you're feeling fancy window shopping won't hurt right? Check it out here! It's #propertyporn at it's best.
Just don't forget to pack your designer bikini.
What do you think of Kendall's vacay spot? Let us know @SofeminineUK!
You Might Also Like:
Selena Gomez Just Lost Her Carpool-Karaoke Virginity And She Was *Such* A Queen
The Latest Must-Have Summer Accessory Is A Giant Inflatable Swan And You're Gonna Want One