We Can't Stop singer Miley Cyrus can't seem to go anywhere without at least upsetting someone and causing offense.

But this time many are saying that the former Disney star has gone too far after joking that she keeps sticking her tongue out because she's suffering from "mini-strokes".

The controversial 20-year-old was hosting iconic comedy sketch show Saturday Night Live this weekend when she made the off-colour remark.

While her comment was greeted with polite laughter from the live studio audience, many viewers at home immediately jumped on Twitter to voice their disgust.

One person tweeted Miley directly: "You and your writers should read about strokes before joking about it. Strokes affect people your age, too."

Another added: "That 'stroke joke' was a cruel thing for Miley to say in front of millions of people."
But that wasn't the only shocking incident that occurred during her SNL hosting gig over the weekend.

Miley mocked the outrage caused by her risqué new image and twerk-filled performance at the MTV Video Music Awards with Robin Thicke.

The Bangerz singer said: "Now I know a lot of you saw me perform recently at the VMAs…I got a lot of letters from angry mothers, turned-on fathers…"

"But there will be no twerking tonight. I used to think it was cool but now that all the white people are doing it, it seems kind of lame."

The child star then killed off her squeaky-clean image for good, telling viewers that her former children's TV character Hannah Montana is dead.

"But I can give you an update of what she's up to," Miley said. "She was murdered."
While the controversial singer took the opportunity to set the record straight about some things, she didn't address her recent spat with Sinead O'Connor.

Miley also didn't mention her former fiancé Liam Hemsworth, who is reported to now be seeing Mexican beauty Eiza Gonzalez, leaving the young popstar heartbroken.

Oh Miley – there's never a dull moment when you're around!

Do you think Miley's "stroke joke" was cruel? Tweet us @SofeminineUK.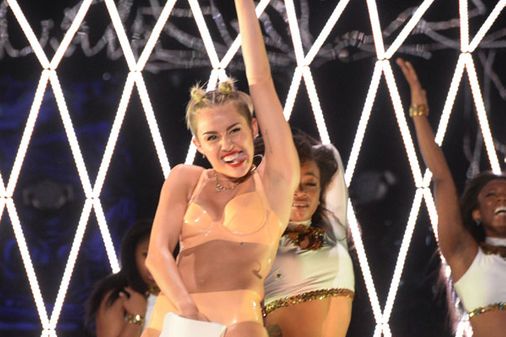 © Getty
Miley Cyrus