Olympic athletes party hard with £2,012 cocktails
After training hard for four years, it's understandable that many of the athletes competing in the London 2012 Olympics want to let their hair down - and that's precisely what they've been doing!

In what looks like an endurance test of a different type, British bronze medal swimmer Rebecca Adlington was at Chinawhite on Saturday night, reportedly helping herself to free drinks until almost 4am.

Other athletes who have also been spotted in the VIP area of Chinawhite include American swimmer and overnight heartthrob Ryan Lochte, who was seen with one of the exclusive club's £2,012 Olympic cocktails in his hand.

The 28-year-old champion certainly looked like he was having a good night as he was surrounded by a bevy of women, and was spotted taking a taxi with several of them draped around his lap in the early hours of the morning.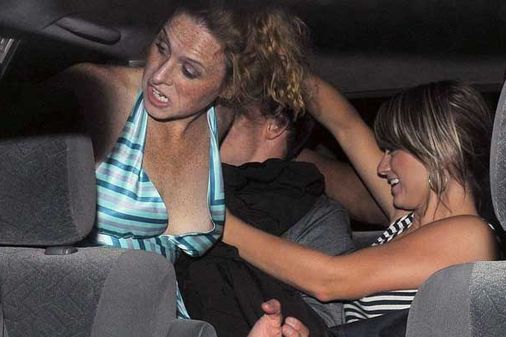 Olympic athletes party hard with £2,012 cocktails
The Team GB Lightweight Men's rowing Olympic Silver medallists Richard Chambers and Mark Hunter looked very worse for wear after they were pictured attempting to take a rickshaw home.
They partied with fellow Brits Dani King, who received a gold medal in cycling earlier in the week and Team GB's rowing gold medallist Sophie Hosking.
Chinawhite has become the party venue of choice for the Games stars, including young royal Zara Phillips, who celebrated winning a silver medal with the British equestrian team at the exclusive west end club.
The Queen's granddaughter was seen drinking Veuve Clicquot and dancing with no shoes on until 4am.
Usually the club is packed full of footballers and reality stars, but for the duration of the Olympics it's been taken over by event organisers The Last Lap.
They have reserved the top floor for VIPs and installed a red carpet where athletes can show off their medals and makeovers to photographers.
Downstairs, there's an additional exclusive area hidden behind the main dancefloor, where the sportsmen and women are given free drinks and can enjoy themselves without being bothered by fans.
Among the freebies lavished on the athletes is the 'golden cocktail' given to any gold medallist, worth £2,012 and made of Hennessy Paradis Imperial Cognac and Luxor 24ct gold-leaf champagne.
Umm, can we have one?