Spencer Matthews has made a New Year's resolution to stop being such an idiot to women, whilst suggesting that he's getting a bit bored of Made in Chelsea and may quit in the near future.

Most people set themselves realistic New Year's Resolutions. You know, lose a few pounds, quit eating chocolate, give up watching old episodes of Scrubs at two in the morning, that sort of thing.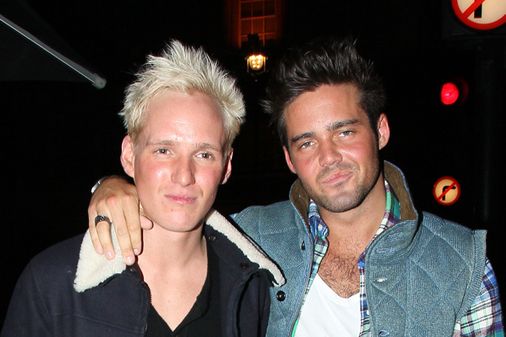 © Getty
Spencer Matthews and Jamie Laing
Spencer, on the other hand, has chosen a resolution that he absolutely will not be able to handle, because as we already know from his previous relationships – Lucy, Louise, Stephanie – the man just can't keep it in his pants.

He has promised that in the New Year he will make a conscious effort to change his ways. He told The Sun that he wanted to: "Stop cheating" in 2014.

Then just don't do it Spenny! JUST DON'T DO IT!

Pal Oliver Proudlock agreed with the general population when Spencer said this, snorting a "good luck" as the 25-year-old revealed his plans.

We also sort of love the fact that Spencer is a love rat though – how else are we going to feel smug if we are no longer watching the Made in Chelsea girls fall for him over and over again whilst knowing for sure that he's already planning his next rendezvous with some randomer?!

However, we might not be seeing Spenny on MIC at all in the future, as it sounds like he's bored of the show, which is a bit rich considering how he's just slammed arch nemesis Millie Mackintosh for leaving MIC and "abandoning" her mates.
Spencer said: "I've always said that it's a temporary thing which is why perhaps my character looks arrogant or a bit dark.
​
"It's probably because I don't really care." Oh, not because you are actually arrogant or anything.

Apparently Spencer is planning two new shows though, a reality show and a drama which will feature – we hope you're ready for this – him giving others advice about LOVE. Hahaha. Ha. What can we even say about that? The man is ridiculous.

Do you think Made in Chelsea would survive without their Mr Nasty Pants? Tweet us @sofeminineUK