Haven't mastered the art of oral sex yet? There's still time. Here's everything you need to know from basic tekkers to getting her 100% loaded for orgasm.
From the top
Oral sex for women, or cunnilingus (the first is probably sexier in bedroom talk terms so stick with that), involves stimulating her genitals with the mouth, especially the tongue. Simple enough.

​In guy terms, oral sex for women is the female equivalent of a blow job. AKA amazeballs and a big deal in every way possible. Ever heard of a guy that hates BJs? We rest our case. It. Drives. Us. Loca.
Intimate foreplay
Foreplay for women is never overrated. As long as you remember that you'll be kick ass in the sack. Guys might be ready to ride in three seconds flat but we need to be warmed up and worked up like a Diesel engine. We've got you listening now right? That means neck kisses and touching our bodies is a must.
Your technique
Before oral sex, it's good for a guy to caress her body. Tracing our hips, gently holding the back of our neck, working down to our inner thighs. In fact this will probably do a good job of turning both of you on so you know we're not selfish in this AT ALL.
Tease it out
From here it's a good idea to have her lay down flat or propped up against something for balancing purposes. You can then work your way down her body, kissing her stomach and hips and nibbling her thighs as opposed to going straight in for the kill. That kinda ruins the anticipation for us.

The rest is down to the individual…anything is possible! Listen to her reaction and the way her body responds. It's not unusual for us to get uncontrollable spasms now and again and if she reaches for a pillow you know you're basically a pro.

Also, just as an FYI, very few of us actually scream the house down #itsnotlikethemovies. You should expect anything from whispers and light groan to gasps and a final victory outburst at the end for which we'll be forever thankful. Your job here is done.
​​If you're looking for ways to make oral more appealing then you can always experiment with flavoured or warming/cooling lubricants and body lick.

A light sucking action can also be effective but when it comes down to intimate moments communication is the way forward. That way you can get her there quicker and with the most impact. You hero.
Focus points - get obsessed with them
The most sensitive part is the clitoris, particularly the gland. Our biggest tip? Get. To. Know. It. Your little magic button is situated at the front of our genitals, hidden in the folds of the labia. The other areas of our vajayjay (only ok when we say it) shouldn't be neglected either: the labia minora, the entrance to the vagina, and also the area around the anus all contain lots of pleasure sensors. Play around with them!
Positions
Women need to be relaxed if there's any chance of an orgasm. That means, get rid of your housemates and/or parents (nobody wants an American Pie moment) and let her know that this time is all hers.
Oral sex can be performed in many positions but here are a few of the best ones:

- For beginners: She lies on her back with her legs at 90 degrees or spread out. Her partner lies or kneels with his head between her legs. You can't go wrong with this classic.

- The 69 position for the kinkier kind: The man and woman are top to tail, with the man's head at the level of the woman's hello and vice versa. The woman performs oral sex on the man while she receives it from him, so it's a position for him and for her. Win win.

- For couples that are completely comfortable with each other no airs and graces: The woman sits over her partner's face. Penetration with the tongue can take place in this position i.e do it do it now.

- Hot for spontaneous oral sex: The woman stands up, with her partner sat down or on his knees. However, it's difficult to reach the clitoris in this position so don't waste time in suggesting you take this to a comfortable kingsize location.
The fundamentals
Whilst AIDS is rarely transmitted through cunnilingus, other infections can easily be passed on, such as herpes or genital warts. Condoms aren't of any use here! The only way to stay safe is to not receive cunnilingus if you have an infection.
We recommend you pleasure her first then try one of these positions!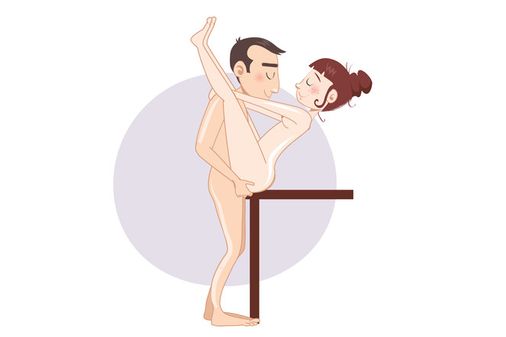 100 sex positions | Kamasutra sex positions
Has your fella got the art of oral down pat? Tweet us @sofeminineUK
You might also like:
The A-Z Of Sex: Everything You Ever Wanted To Know
How To Master Sex: 10 Simple Ways To Be Better In Bed