When it comes to intense pleasure, doggy is by far one of the most popular positions out there - for many reasons - but most importantly because it's known to be one of the best positions for reaching the famous G spot. (No wonder we all love it so much). Here's what else you need to know...
Sextory
Doggy style has been practiced between the sheets since ancient times. Its name comes from the fact that the position involves the woman on all fours (like a dog) with the man on his knees penetrating from behind - hence the animal connotations. It's clearly been loved all these years so it's not surprising that it's the subject of many fantasies for both men and women.
The technique
It has to be said that this position is not for everyone, especially romantic types. During other positions such as missionary it's a lot more passionate because you get to look into your partner eyes and kiss, but with doggy you can't really do this. But don't worry, obviously it does have it's advantages.

The technique involves the woman getting down on all fours and the man holding her from behind on his knees, bending his knees in relation to how she spreads hers. The wider apart her legs are the lower he should be. He then holds her hips and penetrates her with full control over speed and position which can be really, really, HOT.
Sensations
The the feeling of doggy style sex is intense because, as we said, penetration is deeper than any other position possible. It's the perfect position for some G-Spot action.

Just make sure you choose the right angle! Penetration can also be made on the sides of the vagina as well as the top or the bottom, which means the sensations can be extremely diverse and satisfying! Jackpot.
What we love about it
Well, where should we start? Not only does your man get a full frontal view of your back and bum but he can also see himself penetrating inside of you which is a MAJOR turn on for him. But while that sounds all good and great we know what you're thinking, what do you get out of it? Well firstly, your man has easy access to your clitoris so he can make it even more pleasing for you by toying with you during penetration so you get the best of both worlds (i.e. deep penetration and clitoral stimulation) which to be honest isn't always easy in other missionary-like positions.
So basically it's amazing for multiple orgasms (both vaginal and clitoral) which every woman should experience at least once in her life. But if you're the shy type, don't feel intimidated! This position is also good for getting out of your own head and just letting go without being concerned about your facial expression or how you look. Good-bye sexual hang ups!
The (few) drawbacks
Doggy style has provoked a lot of criticism in recent years with people raising their concerns about the dominator/dominated nature of the position while others are concerned about its animalistic nature.
While it's true that the man takes control as long as you're both happy the sex can be mind blowing! It could help if your partner makes a conscious effort to make you feel more comfortable such as caressing you, kissing your back and even bending forward with you to make it feel more intimate. But take note, if your man is too rough, if can be painful if he doesn't control his rhythm, intensity and depth. So make sure he's giving you what you want. At the end of the day you should BOTH be in control, not just him.
When to do it?
Many couples choose doggy when they want a wild, fiery, spontaneous romp in the bed but even then, it's not often a go-to position for those who are new to sex. This is because it could make the woman feel insecure and worried if she doesn't know her body or partner well.
But all in all, there is no right or wrong time. ​Do what YOU feel comfortable with and most importantly, have FUN!
And if you get bored of doggy style - try these instead!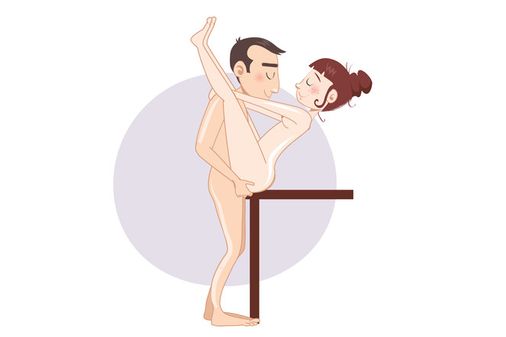 100 sex positions | Kamasutra sex positions
Do you love this position as much as we do? Tweet us @sofeminineUK!
You might also like:
Oral Sex Tips - How To Give The Best Blow Jobs
How To Master Sex: 10 Simple Ways To Be Better In Bed
Better Foreplay, Mind-Blowing Sex And Longer Orgasms: Natural Ways To Boost Your Libido