At this time of year we couldn't think of anything more festive than a pumpkin. They're often a lot of fun to carve, and sometimes a little spooky but this isn't all pumpkins have to offer.
Pumpkins seeds have great nutritional and medicinal punch. From keeping you calm, to putting you to sleep and boosting your immune system, there's really no reason why you shouldn't gorge down on these delicious nutty seeds. And what a great time to start, right?
Easy and crunchy! Here are three ways to incorporate pumpkin seeds into your diet...
Nutritionist and pharmacist, Mike Wakeman uses them in three different ways.
SNACK: Pumpkin seeds are easily portable and can be enjoyed anywhere as healthy snacks. Two tablespoons makes a perfect snack-sized portion!

SPRINKLE: A large pinch of seeds sprinkled over fruit and vegetable salads adds crunch and flavour.

BAKE: Add pumpkin seeds to casseroles, cookies and breads to pack a healthy punch into home baked treats.
1. Immune booster
With winter upon us we're sure to catch the sniffles which is why taking care of your immunity is SO important. So why not boost your defences with pumpkin seeds?
"The high zinc content in pumpkin seeds helps to boost your immune system and helps to fight viruses and colds," says founder of Nosh Detox, Geeta Sidhu Robb.
Zinc plays a central role in immunity including cell division, DNA synthesis and growth and development and luckily this is exactly what pumpkin seeds are good for.
Help cope with flu season by adding pumpkin seeds to soups, yoghurt, salads or just much on them as a quick healthy snack! It's as easy as that.
2. They're heart healthy
Pumpkin seeds are a great source of magnesium, in fact, a quarter cup of seeds contains almost half of your recommended daily amount (RDA)! Which is great, because this is exactly what our heart need to keep it functioning properly.
Mike says, "Pumpkins are rich in magnesium which supports functioning of the heart, bone and tooth formation, bowel function and relaxation of blood vessels.
"​Magnesium has also been shown to benefit your blood pressure and help prevent sudden cardiac arrest, heart attack, and stroke."
3. Brain Power
Blueberries move aside. Pumpkin seeds are just as good for boosting brain power especially when you're craving something on the savoury side.
In-house nutritionist at leading health and fitness app, Lifesum, Lovisa Nilsson says, "A handful of pumpkin seeds each day provides you with the recommended daily levels of zinc (4-7mg a day) is vital for increasing brain power by enhancing memory and focus."
In fact research at Duke University Medical Centre and Massachusetts Institute of Technology found that zinc played a 'critical' role in regulating communication between the brain helping improve memory and cognition significantly.

​This might be our new favourite brain-power snack!
4. They help you heal faster!
Along with pumpkin's immense nutritional benefits, research has shown that their seeds can also help alleviate some conditions as too.
The reason is because, "Pumpkin seeds are a good source of high quality protein along with multiple vitamins and minerals that aid in cell functioning and strengthening cell responses. Damaged cells heal and recover faster." Think arthritis, prostate growth and postmenopausal symptoms. It's all in the package baby.
5. They promote prostate health
Anything that helps our man we wanna hear about especially when it comes to health. And according to research, pumpkin seeds might just be what they need.
"Not only do pumpkin seeds have high zinc content (which is vital for prostate health) but also because pumpkin seed extracts and oils may play a role in treating benign prostatic hyperplasia (BPH, or enlarged prostate)," says Mike.
There's no doubt that pumpkin seed oil and seeds may be particularly beneficial so encourage his pumpkin fix by suggesting pumpkin seeds as a tasty pre-workout snack!
Just one fourth cup of pumpkin seeds will provide with 10 grams of the stuff and that even beats eggs!
6. They can help you beat the bloat
Feeling like a puffer fish lately? Don't worry, we know just the thing.
​Pumpkin seeds can aid in maintaining a "happy stomach," says Lovisa. This is because their seeds include loads of complex carbohydrates and fibres which are vital for healthy digestion.

But note, it's all in the seed ladies. make sure you eat the WHOLE seed as most of the fibres are in the shell.
7. And reduce stress!
Need a chill pill? Get munching on some pumpkin seeds. Pumpkin seeds are a great source of the amino acid, glutamate which is "required in the synthesis of y-amino butyric acid (GABA)" says Lovisa.

The good news? GABA is an anti-stress neurochemical in the brain which can help reduce anxiety and nervousness, helping you feel calm, cool and relaxed!
8. They can help you sleep better
Pumpkin seeds are rich in tryptophan, an essential amino acid that your body converts into serotonin and later into the sleep aid miracle, melatonin. So basically, if you want a great night's sleep, get some more tryptophan in your diet.
But Mike warns, "It's not always a case of eating mouthfuls of pumpkin seeds a few hours before bed that will always give you the desired effect."

This is because tryptophan can't enter the brain while other amino acids are absorbed instead but you can try night-time drink Zenbev which uses patented pumpkin seed extract which is clinically proven to help lure you into sleep.
9. And ease menopausal symptoms
Hot flashes and insomnia may be a thing of the past! Hurrah. Research now shows that postmenopausal women could get some relief with the use of pumpkin seed oil.
Geeta says, "Rich in natural phytoestrogens; studies suggest it may lead to a significant decrease in blood pressure, hot flushes, headaches, joint pains and other menopausal symptoms."

It's as simple as adding it in salads, soups or garnishing over dishes! ​If you're keen to try it, we recommend Clearspring's Organic Pumpkin Oil. So delicious!
10. It's an anti-inflammatory
Raw pumpkin seeds and their oil have an anti-inflammatory effect on the body which provides a whole host of benefits for your health.
"It can be used to reduce inflammation for arthritis patients without side effects.​They also have been used for parasite elimination for thousands of years! They help the body to expel, especially tapeworms and round worms. These seeds also have antifungal and antiviral properties," making it a pretty powerful superfood all round.
For your daily dose of pumpkin why not add Linwoods Milled Sunflower & Pumpkin Seeds into your diet? The seeds have been pre-milled which makes it easier for your body to absorb the nutritional goodness; zinc, omega 6 and 9, Vitamin E, B1 and B6 and Iron. Add into any of your meals for a powerful nutritional boost!
Are you loving pumpkin seeds as much as we do now? Tweet us @sofeminineUK!
Check out these other healthy snacks under 100 calories!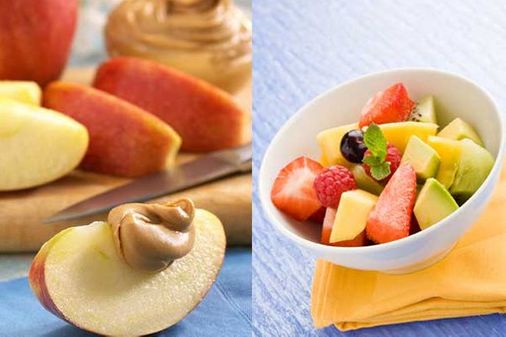 Low calorie snacks under 100 calories
You might also like:
Coffee is good for you! Coffee's 10 secret health benefits
Energy, Weight Loss and Brain Power: 10 Essential Health Benefits Of Iron
More Than Just A Pong! All You Need To Know About The Amazing Benefits Of Garlic