Perhaps I had just been in London too long, but it is true what they say about northern hospitality: the staff at The Belsfield were an absolute delight. The receptionists were welcoming and seemed genuinely interested in talking about our visit, while the restaurant staff were warm and attentive, and didn't grumble when we were the only couple left in the restaurant at 11.30pm on a Sunday night. In fact, one young waitress bounced over to ask about our meal and stuck around for a friendly chat.
The hotel itself is something to behold. The Belsfield was built in 1845, and the exterior is a grand, sumptuous affair with a modern glass reception area tacked onto the front. This addition doesn't harm the feel or the appearance of the hotel - this is a Laura Ashley hotel, after all. When it comes to style, they know what they're doing. And speaking of, if you have even the tiniest iota of style you will fall in love with The Belsfield's interior. The hotel was redecorated in 2014 and features muted blues, greys and reds, with dreamy soft yellow wallpaper adorned with gentle birds covering the corridors and plush, squishy armchairs facing out the large bedroom windows towards the sprawling lake. The bed was one of the most comfortable I've ever slept in and, for those that want it, there's a huge television that is viewable from said comfy bed. Every mirror, desk and light fixture is an Instagram win.
The scenery, of course, cannot be ignored. Our room was lake-facing and if you really want to experience the hotel and its surroundings, this is one aspect that you can't be thrifty with. Yes, lake-facing rooms are more expensive, but the views are unprecedented. It is totally and utterly worth it.
There are two restaurants within the hotel and on our first night we ate at the cheaper of the two, The Brasserie. We were tired from a long journey and hungry after avoiding stale sandwiches from the train station vending machine, but it was worth the wait. "Tell them not to bring out my main," my boyfriend enthused, crumbs falling from his lips. "I'll just take a few more of these, I think." He was pointing to the smoked haddock scotch egg that lay half eaten on his plate. This attitude soon changed, though - as soon as the Cumbrian lamb hotpot was placed under his nose.
For our last evening at the hotel, ​we tried the more expensive restaurant. A five course meal ensued, complete with amuse bouches and fruit sorbet to cleanse the palate. The food was more nouveau cuisine, meaning small portions but delicate and well-balanced flavours. The venison loin carpaccio and sea trout were favourites but for me the brasserie really stood out in terms of food and value for money.
To work off the vast amounts of food you're bound to consume, it's all about the walking. The great thing about Windermere is that you can walk in any direction and you're bound to find a beautiful view. (Which is lucky, because not many people who worked at the hotel seemed to know where the best place to walk was.) We decided to take our chances hiking up a particularly large hill which began close to The Belsfield - a tiring but rewarding walk considering the panoramic views encountered at the top.
After our walk we showered and changed for dinner. That evening we sat in the restaurant with a bottle of Shiraz until midnight. We were left in peace by the waiters. By the time we returned to our room it still wasn't entirely dark outside, so we forewent a TOWIE rerun on the big TV and pulled those big comfy armchairs up to the window, settling in to watch the last of the turquoise sky give way to inky darkness. Had we aged fifty years? Maybe. Did we mind? No.
For Britons, life right now is uncertain and stressful. Windermere is a only five-hour train journey from London, but when you're sitting in restful silence, bellies full, with the warmth of wine spreading through your limbs, breathing in the smell of wet grass and looking out over a stretch of glittering lake, you wonder how you could have forgotten that England can be quite so exquisite.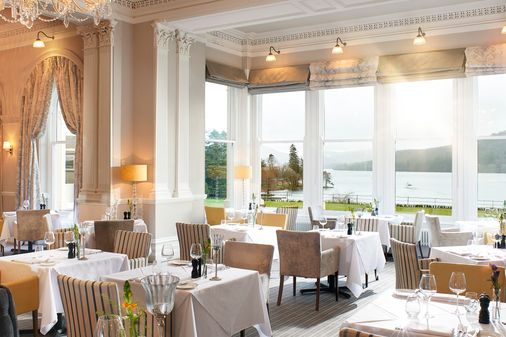 © altitudelifestyle.com
You can take a look at booking a Laura Ashley room at The Belsfield for yourself here.
Have you stayed at The Belsfield? Let us know what you think! @sofeminineUK
You might also like...
These Geode Gem Stone Cakes Are Literally Too Pretty To Eat
There's A Gin Hotel Opening In London And It's All We've Ever Wanted And More