Got anything in your diary for April 2014? Time to scrap it. If there's one thing that should take priority it's getting yourself down to Topshop and in line to buy Kate Moss's latest collection for the infamous high street store.

Believe it or not but it has already been three and a half years since Kate's last collection graced the rails at Topshop, and we're well overdue for our Moss fashion fix.

As a true British style icon and global trendsetter, Kate Moss can do no wrong when it comes to designing affordable garb for one of our favourite high street stores. Combining rock and roll, grunge glam and street chic, Kate Moss has an effortlessly cool wardrobe, the likes of which we could only dream of owning until now.
We're expecting Kate's new collection to be a mix of tailored daywear and night-time glam. With her quintessential brand of tomboy meets rock chic sparkle, Kate's bound to treat us to more of the same but with a high street edge.

The collection is due to hit stores in time for spring/summer 2014 and will be sold globally via Topshop stores in 40 countries (including the UK and US) and online at Topshop.com - so there'll be plenty of places to get your hands on some supermodel style.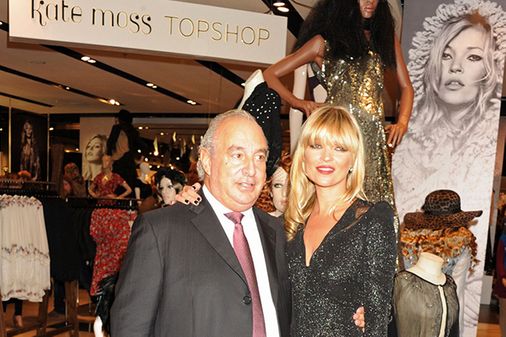 © Topshop
Kate Moss and Sir Philip Green
At the moment the collection is still in the design phase which means whatever is launching next season is gonna be a big ol' surprise, but if her last collaboration is anything to go by, it's set to be fabulous.
Sir Philip Green said: "I am personally thrilled that Kate wanted to come back to Topshop to work with us again. The first time around was such a lot of fun and she has been sorely missed. The Topshop business has developed extensively around the globe since we launched with Kate in 2007, and its our intention to launch and sell this collection in all 40 countries world-wide where Topshop has a presence, in addition to creating pop-ups in department stores around the globe".
And Sir Green isn't the only one delighted with Kate's return to Topshop - the model is pretty pleased too. ​

She said: "I have really missed being involved in the design process, and working with the team at Topshop. I am very excited to create a new collection that bears my name. Now more than ever with London being at the forefront of fashion as it feels like I'm back home working with Topshop".
Will you be lining up to get hold of Kate's new Topshop collection? Tweet us @sofeminineuk