It's official! Kate Moss has been confirmed as the January/February cover star of Playboy's 60th anniversary issue.
The British supermodel has carved a hard-to-top career out of dressing in designer duds, fronting leading label campaigns such as Burberry and YSL and gracing the front cover of Vogue. Not to mention beauty deals with Rimmel and St Tropez.

It's no wonder Mr Hefner wanted her to mark their Diamond anniversary.
Despite her impressive fashion resumé, she's not above taking it all off for Playboy - another reason why we love her.
Photographed by Mert & Marcus, Mossy is said to have posed wearing bunny ears, velveteen cuffs, silk stockings and a cheeky smile. Atta girl!
She's already posed topless with Rihanna for V Magazine, bared all for Love Magazine and gone nearly nude for Esquire, so we're thinking Playboy would have been a breeze.
The January/February issue hits news stands a month before Kate's 40th birthday so she'll have to throw one hell of a party to celebrate. Oh to be on that guest list.
Playboy founder Hugh Hefner said: "She's a worldwide celebrity and iconic and crosses the boundaries from sexual imagery to upscale modelling. It's a natural for us."
Playboy's editorial director Jimmy Jellinek told the Los Angeles Times: "This is a massive global brand. You need a global icon in order to celebrate that - that was the impetus.
"You're talking about the face of Burberry, the biggest supermodel in the world on the cover of Playboy. She's the perfect partner for us to help launch the next 60 years."
He added: "This creates a heat for the brand globally. It started with Marilyn Monroe on the cover of Playboy 60 years ago, an icon for her time. Now we've got Kate Moss!"
Check out Mossy's nearly nude editorials in the gallery below...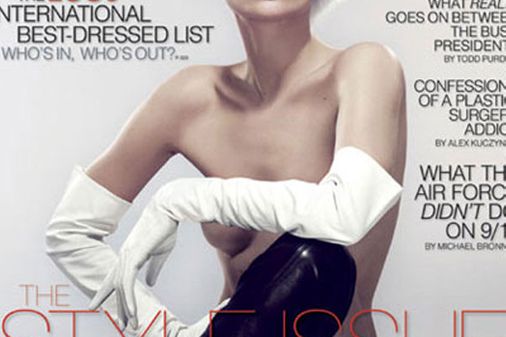 © Vanity Fair
Update: Playboy confirms Kate Moss has posed for their 60th anniversary issue
Will you be adding Kate's Playboy cover issue to your editorial collection? Let us know your thoughts @sofeminineuk