Any child of Kimye's was never going to go without but inheriting a designer wardrobe when you're two months old is enough to make Harper Beckham stomp her feet.
Baby North has been treated to a bevy of French labels from Celine to Alexander Wang to welcome the little tot into the world of Paris Fashion Week.
Little Nori has pretty much sealed her seat on the FROW for seasons to come and she's definitely not going to be short of designer swag anytime soon.
So here's what her first public appearance and fashion week wardrobe could look like:
Day one:
A soft pink Lanvin dress with a ditsy corsage rose and satin empire line.
Day two:
A mini Céline jumper (personally addressed to 'buba') with snakeskin effect trainers - a Kanye-approved outfit for sure.
Day three:
An Alexander Wang leather mini dress. We're sure Kim had a say in that one!
Day four:
A crisp white linen lab coat by Maison Martin Margiela.
Day five:
The grand finale. THAT Givenchy Bambi custom-made top as seen on Lily Collins et al.
And that rounds off the designer wardrobe that we're pining for in grown-up sizes.
Check out Nori's key designer pieces: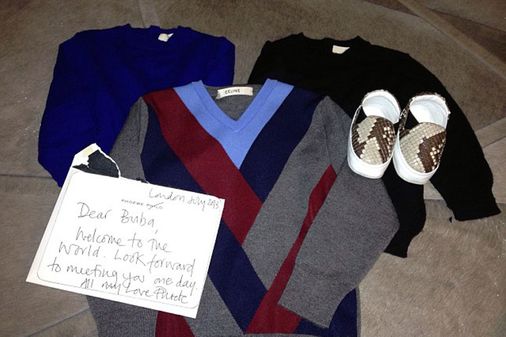 © Kim Kardashian instagram
Baby North's Paris Fashion Week wardrobe: Designer tot
What do you think of Nori's designer garb? Cute or designer couture gone too far? Tweet us @sofeminineuk