Not content with being successful on both sides of the Atlantic, walking in 50 shows and fronting campaigns for Chanel, Burberry and Saint Laurent, Cara Delevingne has now set her sights on the orient.
The tattooed super has kick-started her career in Japan by posing (and jumping up and down a lot) in a commercial for Japanese brand La Boo.
Aimed at teenagers, the new online fashion brand stocks high street brands as well as local products.
The 30 second ad sees the British model bouncing around on her kingsize bed, singing into a hairbrush and of course, pulling her trademark funny faces. Oh, and all of the above is carried out in some very sexy red lingerie - did we mention that already?
She's clearly more than comfortable with stripping off, you only have to look at her unzipped i.D Magazine shoot to realise that, so lingerie was no big deal.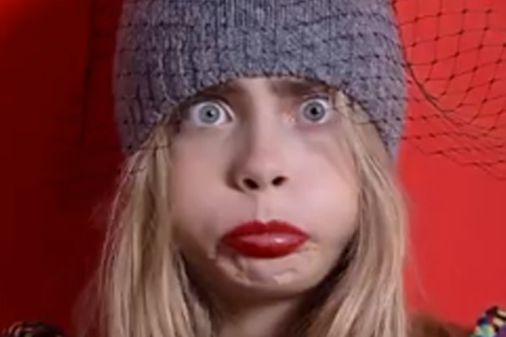 © La Boo
Cara Delevingne goofs around in her undies for Japanese fashion ad
Showing off her slim figure, lion ink tattoo and her enviable brows, Cara proves why she's the fashion week fave everyone wants to work with.
Her fun-loving personality shines through as she kicks teddies off the bed and uses her hairdryer as an X Factor style wind machine.
She's not afraid to let go in front of the camera and at one point breaks into a very entertaining crab dance, walking sideways across the room clad in leopard print trousers - just another day in the life of Cara!
The ad finishes with Cara saying "I love La Boo" in her husky but pronounced British accent as she clutches a shiny toy horse.
Intrigued? Then you better watch the video right now!
What do you think of Cara's teenage dream ad? Tweet us @sofeminineuk