You've got all the family coming from across the miles, there's bound to be a family portrait moment and your mum's been prepping for this day for the last 6 months. Let's just say it, you're going to need to dress to impress.

Fear not. We've got our very own festive fashion fairies here at hand. Here's a look at what your favourite bloggers have got planned for their festive get-up! Note: Yes, it's going to be one of those moments when you wish the outfit would just magically appear in your closet... Let's see what Santa brings eh!
What EJ Style's wearing
I love everything about Christmas, but what I love most is that it gives us an excuse to unleash that sartorial creativity which we can't really express at any other time of year. When it comes to dressing for the festive season I've never particularly been a lover of party dresses, they're just not my style, and I know I won't be the only one that has the same #girlproblem. This gives us non dress-wearers a challenge to create a look which A. fits our style and B. needs to look different than your everyday wardrobe of jeans/tee/blazer (Who's with me?).

​H&M have a gorgeous selection of party wear pieces this season and rather fabulously, they aren't all dresses. I instantly fell head over heels for this beautiful emerald green faux fur jacket - anything which has the practical factor of warmth is always a winner for me!

The fur is naturally quite chunky so I wanted to streamline the bottom half of the look with a simple pair of black skinny jeans. It wouldn't be a Christmas look without at least just a touch of sparkle, so I went for this sheer sleeveless top with gold printed detail. Just check out that ruffled neckline, uh-mazing! I wanted a top that suited my own personal style and also something really Christmassy. My style has an element of 'edge' to it and this can often be tricky to incorporate into a festive look but teamed with these on point accessories, H&M has it in the bag for me this season.
Photography by Amber-Rose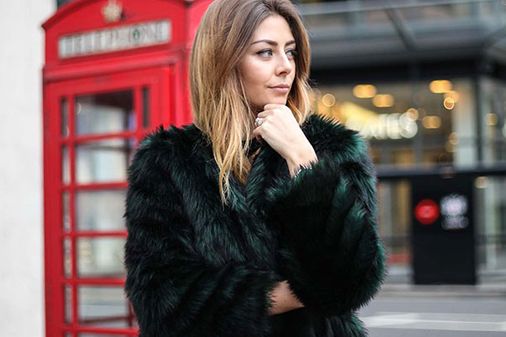 EJ Style
What Little Magpie's wearing
Well, t'is the season to be jolly, so I thought I might as well go fully festive and do it in red! As soon as I spotted this babelicious maxi hanging on the racks in H&M I had a feeling we were destined to be party partners for the year. Then I saw the price tag and party partner status was instantly confirmed... £14.99. That's right, fourteen ruddy ninety nine. Madness, isn't it?

It's such a lovely bright red shade and it fits like an absolute dream. The little details like the rope tie belt and the slit thigh make it look all the more expensive, and don't even get me started on the fact that Katy Perry's wearing it in the advert. Ok, do get me started - how exciting is that? I can't say I ever thought I'd be wearing the same dress as my favourite Hot 'n' Cold gurl, so that's an extra little Christmas treat right there. I've got a Christmas night out coming up next week so this little number's getting tucked away for then to wear with the big black tassel earrings from the H&M Christmas collection. Swoon!

Speaking of which, the rest of H&M's festive collection really is truly lovely, if you haven't seen it yet then be sure to check it out - there's everything from novelty jumpers (including an 'Elfie Selfie' one which I'm 100% certain will be gracing my torso on Christmas day), to plenty of sequin numbers (skirt, tops AND dresses) to some wonderfully cosy knits, and it's all really well priced too. I can guarantee that whether you're a party chick or a stay at home with a cup of cocoa kind of Christmas gal, there'll be something in there for you.
Photography by Amy Bell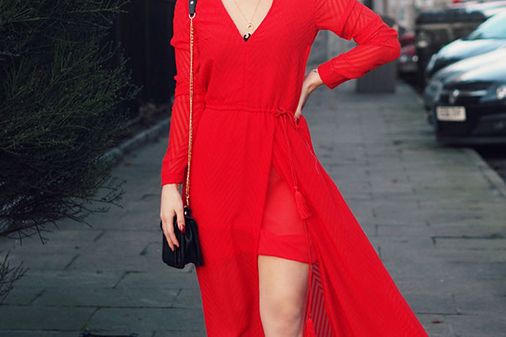 H&M
What Hannah Louise is wearing
Christmas day is literally round the corner now and whilst I am frantically panicking about buying last minute gifts, I do take some comfort in the fact that at least I have my Christmas day attire sorted.

For me, Christmas day dressing is about combining comfort with a bit of sparkle. I want to be able to eat roast potatoes until it is physically painful to eat any more, but also look presentable for any visiting friends and family, or an inevitable festive photograph - these H&M black velvet trousers strike the balance perfectly. They have an elasticated waistband so are safe for the all-day eating marathon, they are super soft and comfortable, but they also look very chic and luxurious. Here I paired them with a very simple black cami (also H&M) with just the right amount of metallic to make the outfit slightly more 'special occasion' than everyday.

With a pair of heels and some jewellery or a gold or silver plate belt this outfit could easily be Christmas party-wear, or could be made even cosier with a big chunky knit. I'm not the slightest bit prepared for Christmas day, but at least my wardrobe is!
Photography by Tessa Abrahams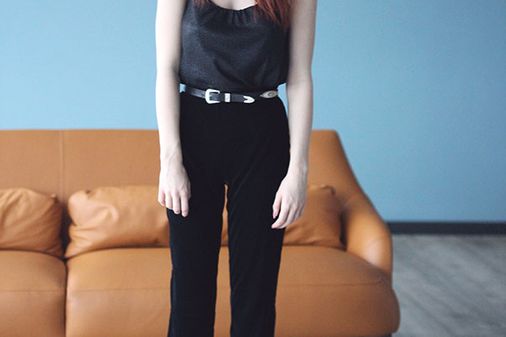 H&M
You can shop all these looks and more right here: http://www.hm.com/happy-and-merry-katy-perry
What will you be wearing for party season? Sparkles, an LBD or your favourite Christmas knit? Tweet us @sofeminineUK!
You might also like:
H&M Gift Guide: All The Present Inspiration You Need For Your Nearest & Dearest
8 Reasons Why We're Loving Katy Perry's H&M Xmas Video