Selena Gomez is barely recognisable from her sweet Disney self in her edgy editorial with i-D Magazine.
The This Is England inspired photo shoot was shot by Scott Trindle and sees Selena posing alongside buzz cuts and a gritty East London backdrop.
Without a hint of sparkle, gold or glitter the Hollywood songstress shows off a whole new look as she swaps glamour for grunge and Los Angeles princess for London grunge.
Gomez quickly settles into her Hollywood to Hackney makeover with rained-on tresses, barely there makeup and an Alexa Chung-approved outfit.
Wearing an oversized boyfriend coat by John Varvatos, a slouchy Margaret Howell sweater and low rise jeans, Selena is all kinds of London laid bare. If this is the result of an urban-over, we want one fast.
Hands in pockets, city chic stance in check. Someone put her on the underground already - she's a London pro.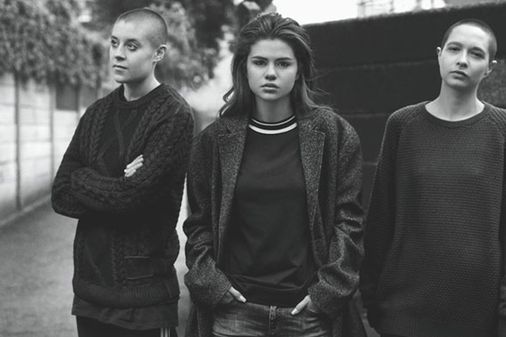 © i-D Magazine
First look: Selena Gomez gets a London makeover
Styled-up by Elgar Johnson she'd certainly fit in with the Primrose Hill crowd, the frowers or the pose-pulling wifeys Cara Delevingne and Rita Ora.
So what does she make of her glam under?
"I was being rained on, it was freezing, I was covered in a giant sweater and my hair was all over the place. I got to just be in that moment and feel like I was there."
What do ya know. Selena Gomez knows what it feels like to be a bedraggled Londoner.
She adds: "I love doing shoots overseas. Actually being there and feeling the environment adds a realness to the shoot.
"It's so easy to wear incredible, beautiful dresses and look super glamorous, because you have the power of Photoshop, but a shoot that's really stripped-down and raw is really fun to do."
Yeah, sure it's all too easy to be glamorous and gorgeous... when you're Selena Gomez!
Does Selena Gomez make for a convincing London It girl? Tweet us @sofeminineuk