We love it when Instagram gives us a whole lot more than just your average selfie, belfie or cocktail shot, and the account of @2sisters_angie is definitely one to follow. Angie takes snaps of her 4 year old daughter's designer dress habit - except all her frocks are made from paper, tape and glue.
Angie was fed up of her daughter taking her clothes and popping them in her toy box so she suggested they make a paper dress together instead. Little Mayhem was hooked from the get go and paper dress making has totally been their thing ever since.

From sixties looks to floor length gowns, ruching and flicks, flares and matching hats, Angie and Mayhem make great dresses with simple craft materials. Along with paper and tape the pair also use tissue paper, wrapping paper and gift bags to get the structure and shapes they need.

Better still, apparently half of the dresses they've made together have been Mayhem's ideas, and it's clear she gets plenty of inspiration from celebrity dresses at red carpet event (see pictures at the bottom!)

Her dress making habit started off simply enough but you can see how the mother-daughter duo have progressed from child's play to paper couture...
Red carpet dresses - DIY
Some of our fave dresses they've made are the cut and paste versions of celebrity gowns - Jennifer Lawrence's monochrome Globes gown, Katy Perry's Grammy Awards gown and Lupita Nyong'o's gorgeous caped creation from the Golden Globes. The attention to detail is madness too - check out Mayhem's version of Taylor Swift's Jenny Packham gown for the CMAs.

We're not feeling so bad about our missing Oscars invite now - as long as we have some paper and scissors we'll be just fine recreating the glamour at home.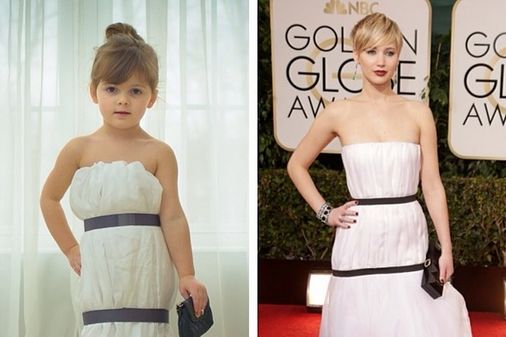 © Instagram @2sisters_angie
Jennifer Lawrence aux Golden Globes
How cute/amazing are Mayhem and her mum? Tweet us @sofeminineUK