I like fashion. I wouldn't say I am Anne Hathaway post-transformation in The Devil Wears Prada, but I try my best. My day to day outfit choices aim to be somewhat versatile and pleasing to the eye (she says wearing the same skirt for three days on the trot) and, like most people, I have a love/hate relationship with those incredible, Amazonian-like Instagram fashion stars who I both envy and revere. Taking screenshots of my favourite outfits and trying to work out how I can recreate them solely in Primark is a daily struggle.
So when it comes to LFW, as a pop culture reveller who will choose a copy of Empire over Vogue every time, my poor, Topshop-addicted mind just can't cope with the sheer melodrama of the whole thing. Let's start with the clothes. Of course high fashion can be stunning and eventually everything we choose to wear originates at these shows (to quote Meryl Streep in The Devil Wears Prada: "you think that you've made a choice that exempts you from the fashion industry when, in fact, you're wearing the sweater that was selected for you by the people in this room from a pile of stuff."), but at what cost?!
I speak of course about the runway shows that want to break the mould somehow, create headline news and do anything it takes to get people talking, including and not limited to having models walk the runway in blackface and tying one model upside down to another. What statement was this even trying to make?! How does this possibly reflect real fashion?!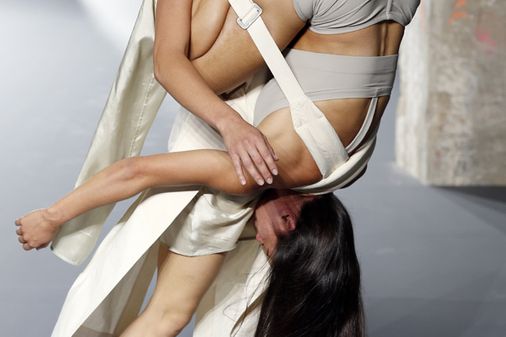 Then there are the outfits people rock up to LFW, possibly in the hopes of being snapped up for street style. Of course fashion is all about expressing oneself, but ARE the people rocking up in leather cloaks with matching eye patches really feeling their look? Did they wake up that morning to find themselves finally able to express their true spandex-pirate selves because LFW has finally hit? In fact, the 'out there' fashion surrounding these events have become so absurd that people can't tell the difference between so-called high fashion and simply trash, myself included.

Hannah Ewans of Vice magazine proved this point pretty well when she visited LFW last year dressed in clothes she fished out of a skip. Although she described herself as "a bloated Furby at a Shitdisco concert", she was surrounded by attention, had a VIP treatment from a PR who recognised her and "photographers were flocking to [her] like hungry freelancers around the canapés at a press launch."
There are also countless articles about what you should wear to LFW, which seems sort of counterproductive to the whole point of self-expression. While the Mirror suggests to "look important with a pair of incognito angular aviator shades", Glamour advises that the "secret is lies within easy understatedness and lashings of confidence." SO WHAT ARE YOU SUPPOSED TO WEAR?!
Although cynical, my ahem, somewhat negative viewpoint will be set aside this week, and this will be the first LFW where I am really going to try to enjoy it. I'm going to hit up some fashion shows, try a couple of 'supermodel' treatments and I know that there's at least after party that I can only describe as dubious at best I could squeeze my way into. I will update on my way, and you can follow my efforts on Twitter. In the meantime, I can't be the only one who thinks LFW is, not to be too OTT, a MASSIVE waste of time, right?!
Give your opinion with our poll!
Want to tell you yours thoughts on LFW? Tweet us @sofeminineUK!
You might like...
I Let My Boy BFF Dress Me For Dates & This Is What Happened

New York Fashion Week AW16: The Street Style Outfits Giving Us All The Feels

The Best Looks From The Grammys 2016