It's a common misconception that fashion girls are all image obsessed coffee junkies with a basic taste for new balance, goodie bags and gluten free errrything but that's only half true.

Behind the scenes at sofeminine we really just love to sit at our desks in bed socks and oversized Gremlin jumpers, tucking into six crispy golden chicken nuggets #itsbeenknown #sorryforkillingthedream
Our A/W working wardrobe is usually practical, warm and has to pass the can-sit-down-in-it-for-eight-hours test. Tight pencil skirts and leather = major no nos and zips are also challenging post lunch time. Our office is dangerously close to a fattening food chain beginning with Mc ok?!
But in the name of London Fashion Week it's only right we try that little bit harder with our closets and possibly our calorie intake. We're trading in hamburgers for haute couture and heels. We don't even know who we are anymore. Here it goes!
Little tea pot, chin up, smize!
Tolani - She takes the helfie to a whole new level and she looks a hell of a lot like Keisha from the Sugarbabes doesn't she?
Tolani on Tolani:

"I wouldn't say I have a set style as such. My style is very varied, but I always like to add a little feminine touch to my look and always like to look well put together. I hope my style is somewhere between Rihanna and Victoria Beckham."

What she's wearing:
Dress: ASOS
Jacket: Pretty Little Thing
Boots: New Look
Lipstick: MAC Ruby Woo
​
Emmy AKA the ginger vixen. We stole her from Derby.
Emmy on Emmy:

"I think my style is very girly and clean cut - I always go for dresses and skirts! My favourite look is vintage so I'm so excited about this season's Seventies trend. I'm gonna be shopping for flares at the weekend!"

What she's wearing:
Coat: Miss Selfridge
Shoes: River Island
Hat: Topshop.
Lareese - Best known for inappropriate conversations & her irrational hatred for slow walkers.
Lareese on Lareese:

"I feel like my style changes every three months. I never settle for a certain look I just go through different phases. At the moment I'm stuck on a kind of wannabe normcore chapter but that might just be because it's winter and I can't be bothered. I'm a fan of oversized slouch and beige. If I could wake up to anyone's wardrobe it would be Olivia Palermo's."

What she's wearing:
Trousers, Jumper: Zara
Shoes: Boohoo
Watch: Olivia Burton
Bag: Next
​
Vivian - The sassy princess and SHE'S A TWIN. She also likes to use the word holla.
Vivian on Vivian:

"I'm a massive jean and t-shirt kind of girl so I'd say effortless and girly is my thing, but when I'm out or have somewhere to be (and craving a massive splurge) I'm all over chic, flattering designs. Quality pieces are a must for me and I'll know exactly what I like when I see it. I can't wait to blossom in florals soon!"

What she's wearing:
Top: Warehouse
Skirt: Promod
Shoes: Clarks
Scarf: DVF
Watch: Kate Spade
Earrings, Bracelets: Mimco
Ursula - The Frenchy wannabe with a preference for floral print and fashion hats on windy days
Ursula on Ursula:

"My style fluctuates between masculine tailoring (I love a good shirt and jacket combo) and floral prints. I'd love to be able to dress more rock chick like Gwen Stefani but I can't pull off platinum blonde so I'm stuck trying to dress somewhere between Victoria Beckham and Melanie Laurent."

What she's wearing:
Dress: H&M
Shoes: New Look
Jacket: Warehouse
Coat: Zara
Hat: Topshop
Follow us @sofeminineuk to keep up with all the latest #sofemininestyle at fashion week!
Check out more outfit photos in our gallery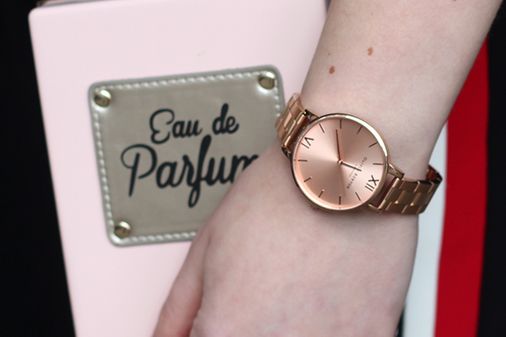 © sofeminine.co.uk
#OOTD: What We're Wearing To Fashion Week