Celebrity cleavage is no new phenomenon but the A-listers seem to be bored with boobs in bras and balcony boosters and seem happier to let them all hang out.
When Kim Kardashian stepped out at Paris Fashion Week wearing her risque Givenchy dress, we knew we had a new trend on our hands - the world of celeb has discovered the plunging neckline again and celebs are taking it to new lows. Quite literally.
If you've got it, flaunt it!
Kim K's not the only one up for showing off her ample assets. Cara Delevingne took the deep V plunge in a black jumpsuit at the Mademoiselle C cocktail party in Paris this week.
With Cara Delevingne spearheading the trend in Paris it wouldn't be long before other models followed suit. Yummy mummy Miranda Kerr was also out and about displaying some serious cleavage at PFW in her loose-fitting white dress which she styled out with a Stella McCartney Beckett shoulder bag.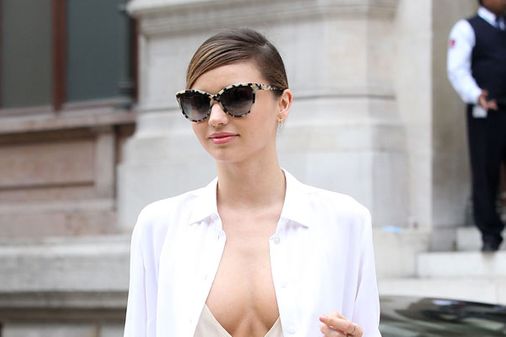 © Getty
The celebrities loving the bra-less cleavage trend
And then there's former Girls Aloud glamour puss, Kimberley Walsh, who turned up the sex appeal at her book launch in a bust-baring navy jumpsuit by Forever Unique. Are these celebs all trying to out-boob each other?
The 'extreme cleavage' trend is very flattering on all body shapes but we wonder how many of us could really pull this off without making a complete boob of ourselves.
Even Hollywood's elite have their fair share of nipple sticker hiccups and body-tape mishaps so how would this extreme boob trend bode for us mere mortals?
Daring to show off your entire décolletage isn't for everyone but there are plenty of high street picks that you can tailor to your own style.
Here's some 'extreme cleavage' wardrobe inspiration:

© Topshop
The celebrities loving the bra-less cleavage trend
Nipple slips and celebrity oops moments will enjoy a healthy incline if this trend is gonna stick around but what do you make of the new boob craze? Too much flesh or a total fashion hit? Tweet us your thoughts @sofeminineuk