Fashion is finally starting to realise that thousands of women would be down to buy more clothes online if they could only see models try on items that resembled their own body shape. It figures that we want to see how something will look before we commit to buying it. That's why we're applauding e-retailer Sizeable, which was founded by Larissa Thorne, a fashion writer who lives in Melbourne, Australia.
Thorne realised that there is "no standardized sizing system," meaning a size 6 at Zara is going to fit differently than a size 6 at Miss Selfridge. Without any standard, she knew that it's hard for women "to find clothes that not only fit right but suit our body shape" too.
​To solve this problem, Larissa decided to enlist six of her good friends to show off the clothes on Sizeable instead of hiring catalog models from an agency. When you get to the site, choosing a size isn't an option! Instead you choose a model that reminds you of yourself and get to shopping!
The site features clothes from Ruby Sees All, Limedrop, Leonard Street, and AD by Haryono Setiadi. Now before you go there and say, "WHERE IS MY BODY SHAPE?" it's important to know that the site was only launched last week.

​Thorne recently told the Daily Mail that she has plans to include curvier and smaller models in the near future so keep checking in!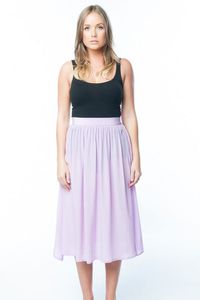 © sizeable.com.au
Overall, isn't it just awesome to land on a clothing site that wants to see all women of all sizes rockin' their clothes?We think this push towards body positivity in online stores will make it easier for us to love what our mummas gave us and be proud of who we really are!

And it should mean fewer postal returns too (they're the absolute worst).

Long live real fashion!
Would you like to see British e-tailers list clothes by shape and not size? Tweet us @sofeminineUK
You Might Like These Too...
The Most Awesome Bikini Body Shots We've Ever Seen. And It's NOT What You're Thinking
10 Lessons in Self-Confidence From Plus-Size Models
This Woman Has A Message About Body Image And You Need To Listen