So you were invited to a cocktail party. The first thing you need to do is RSVP. The second, more important task is to find and finalise your outfit!
When it comes to cocktail party dress codes, there are three basic categories: casual, business, and formal.
While the clothing options and rules differ for each category, keep in mind that the guidelines for accessories are largely the same for any cocktail party.
1. Always wear heels.
2. Always wear a small handbag. Totes and satchels look awkward and out of place. Opt for a petite shoulder bag or a clutch.
3. Always wear jewellery! If you want to make a statement, choose one focus, like a jewelled collar necklace or large chandelier earrings. If you prefer the minimal look, go to town!
Onto the clothes...
Casual cocktail party
Casual cocktail parties are often held at people's homes. Your host or hostess wants all of their guests to feel comfortable, so don't let yourself stress too much about the outfit. Skinny trousers are chic and easy to wear. You can do jeans; just make sure they're two things: a) dark and b) tailored. Light denim rarely looks right at night, and this is not the moment to break out your new boyfriend style pair either.
Keep in mind that parties like these are often "open house" meaning that the guest list is likely large and people can come and go as they please. A lot of bodies in one place can warm up very quickly. Wearing a sparkly sleeveless or cap-sleeved top under a blazer or cardigan gives you options if it gets a bit too steamy.
Business cocktail party
This might be the trickiest of all three, but it doesn't have to be the most stressful. The objective here is to look professional and polished without losing your clothes personality in the process. It can be done! Opt for a silk top tucked into slim trousers, an embellished top with a pencil skirt, or a tailored shift dress. Make sure that you choose something that fits well, but isn't too tight-fitting. No bodycons!
Whatever outfit you decide on, let an element of you shine through. Don't shy away from a pop of colour or a crystal bib necklace. Business does not have to mean boring!
Formal cocktail party
The most important thing to keep in mind when you're shopping around for a formal cocktail party outfit is fabric. The right fabric separates the girls from the women. Choose a luxe material like silk (shantung, dupioni, or crepe), satin, or tulle. Velvet is lovely in the winter. Avoid knits; they're just too casual.
Make sure the colour and weight of your outfit is season-appropriate so no summery dresses for a December affair.
Last but not least, make sure you're as comfortable as possible. When you aren't, it shows, and a lack of confidence can ruin even the best of outfits. If you think you'll be standing a lot, test drive a few different pairs of shoes. If it's an outdoor event in July, have your hair done in an updo. Plan ahead and come event night, you'll feel cool, calm, and ready to dance the night away!
What's your favourite cocktail party look? Tweet us @sofeminineUK!
All above images thanks to Judith & Charles.
Here are a few more of our favourite cocktail party looks!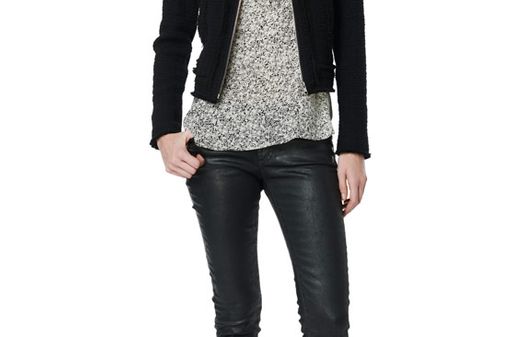 © Rebecca Taylor
What to wear to to a cocktail party