The Isabel Marant H&M collection will hit stores worldwide from November 14, 2013, and will have everything you could dream of to recreate some French girl allure for yourself. From clothing and accessories, to teen-friendly threads and even a menswear collection, the H&M Isabel Marant collaboration is set to be a biggie.
​"I am flattered by this collaboration: H&M works with the best designers and this invitation is an exciting honour. I aim at creating something real, that women want to wear in their everyday lives, with a certain carelessness, which I think is very Parisian: you dress up, but do not pay too much attention and still look sexy.
​
"The collection is infused with this kind of easiness and attitude. Everything can be mixed following one's own instincts: my take on fashion is all about personality" says Isabel Marant.
​"We are excited to have Isabel Marant as a guest designer at H&M. The way she mixes different elements in her collections, creating a style that is effortless and urban, makes her very contemporary. She has a fantastic eye for ethnic detail and the rare ability to create something that people really want to wear" says Margareta van den Bosch, Creative Advisor at H&M.
If her Autumn/Winter collection for 2013-2014 is anything to go by then we're already smitten. From edgy leather panels to over sized jumpers, sexy cable knits and a monochrome palette, we're expecting rough 'n' ready, sexy smart-casual for that elusive French touch.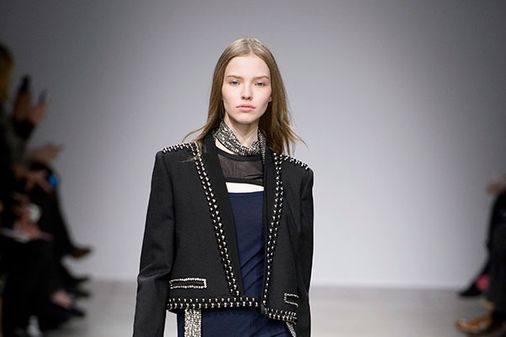 © Pixelformula
Isabel Marant
Excited for this designer collaboration? Tweet us @sofeminineUK or tweet @Ursula_Dewey to tell us what you think!