Olivia Palermo is a household name when it comes to accessorising, tailoring and styling.

She shot to fame in MTV's The City but now pretty Palermo is proving there's more to her than just clothes and catwalks.
Olivia's launched a Fairtrade accessories line with the Maasai Pikolinos Project to help change the lives of hundreds of women.
The shoe and handbag collection has been created by women from the Maasai community of Kenya, providing them with jobs and offering support to one of the most endangered tribes.
As the ambassador for the Maasai project, Olivia travelled to Kenya to meet the inspirational women behind the accessories collection.
The 27-year-old told LOOK magazine: "This wonderful development project is changing the lives of these women. By bringing together a Spanish footwear company and an international cooperation the result is ethnic designs with lots of love behind them - incredible!"
Not only does this project provide an income for the women, but it also gives them the opportunity to be independent and exercise their culture's creative craftsmanship.
Olivia added: "Once I saw the excitement on these women's faces, I felt the need to be part of the project. These aren't just sandals, they're the essence of Africa."
We can't wait to get our hands on these unique beaded sandals and tribal arm candy! And all for a great cause.
Check out the collection online at pikolinos.com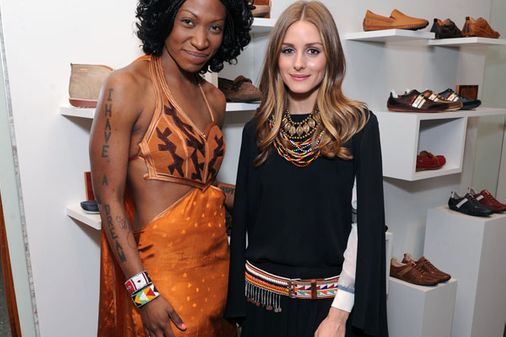 © Pikolinos
Olivia Palermo: Her latest fashion project