If you want a brand to sell, you know you've got to give Rihanna a call. Her MAC Ri-Ri Woo lipstick was a total sell out and it looks like her River Island campaign is heading for the same success.
The Diamonds singer is bolder and brighter than ever in her latest designs with dipped hem scarlet dresses, seductive crochet separates and floral prints a plenty.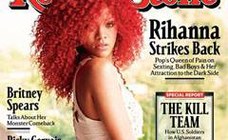 Rihanna's channelled her favourite textures and colours into the mix and where there's a will there's definitely a red and black theme .
The Barbadian singer is known for her risqué outfits and tum-tastic ensembles but her collection is mindful of all body types.
She said: "I made a piece for everybody in my crew, we all have different body types and different tastes - some are braver than others. I think like that because that's how women in the world are. We're all different, we like different things, we have different occasions and different moods." We hear ya Ri-Ri, we hear ya.

© River Island
Rihanna launches Summer clothing line with River Island
Talking about the design process, Rihanna added: "I just wanted stuff that I wanted to wear because at the end of the day that's what got me into designing - seeing things on the rack that were great, but that could have been a little more me.
"Maybe they could have been a little longer or shorter, or have a little more sex appeal or a little less. I wanted to make clothes for fat days; stuff that I want to wear. I was being selfish. Hopefully, my friends and people who shop at River Island will have the same taste."

© River Island
Rihanna launches Summer clothing line with River Island
Rihanna's River Island Summer Collection hits stores today.
Preview her floral fashion and tie-dye trends in her behind the scenes video with her co-designer Adam Selman.